Departing DPP: I wasn't pushed out and know what I'll be doing after I leave
The country's chief prosecutor has dismissed claims she is standing down because the Government has refused to extend her contract.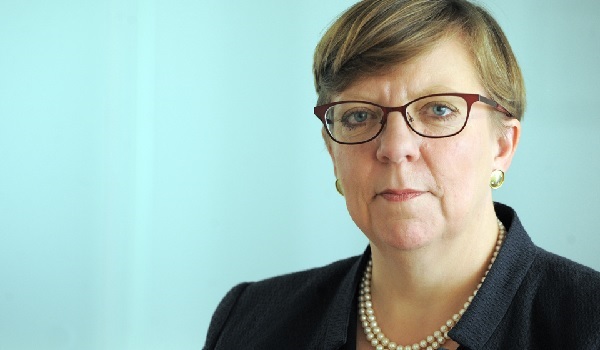 Director of Public Prosecutions (DPP) Alison Saunders has rejected criticisms of her five-year term, saying allegations that standards had slipped were "hugely insulting" to her 6,000 staff.
Ms Saunders will continue to head the Crown Prosecution Service (CPS) until the autumn, after coming under fire for high profile failings, including the collapse of several rape trials due to evidence not being disclosed to the defence.
Attorney General Jeremy Wright confirmed Ms Saunders will leave in October. A search for a replacement is to begin immediately.
Despite suggestions the head of the CPS may not have got a second five-year term, Ms Saunders, who will become a partner in multinational law firm Linklaters, said it was her decision alone.
"I told them that I would not be asking for an extension and that I was leaving at the end of my five years," Ms Saunders told BBC Radio 4's Today programme. "It has not been an issue for discussion."
All DPPs serve five-year terms and only one has been extended, for Dame Barbara Mills immediately before the 1997 general election.
Ms Saunders' tenure at the top of the prosecution tree has been marked by a number of controversies. One of her defining moments came when her decision not to charge the Labour peer Lord Janner with alleged child sex crimes was overturned shortly before his death. And she faced strong criticism after most of the journalists charged as part of the Operation Elveden investigation into claims reporters bribed police officers and other public officials were acquitted.
MP Bob Neill, chair of the Commons Justice Committee, said there have been "serious concerns" about the priorities of the CPS under Ms Saunders' leadership. He said if Ms Saunders had sought to continue in her role "questions would have been asked" about her suitability following concerns about disclosure which led to a review of all rape cases.
Mr Neill added that the new DPP should be a QC and not a career civil servant to ensure confidence is restored. But she said such remarks showed a lack of understanding of the work of the CPS.
When Ms Saunders took up her post in 2013, the CPS had almost 7,000 staff and a £586 million annual budget, which has since fallen to 6,000 staff and £500 million to prosecute 600,000 cases a year amid increased complexity of cases being handled.
Ms Saunders said she was "proud of everything the service has achieved over the past five years" but warned that its work was now more complex because of evolving economic crime, terrorism and rising reports of historical sexual abuse.
"My priority over the next six months is to keep driving improvements in how we work, with a sharp focus on casework quality," she added.
"Key to that will be working alongside the police and other partners to find long-term solutions to the disclosure issues that exist throughout the entire criminal justice system."