Crackdown on burglary sees offences more than halved
Burglaries have more than halved since specialist teams were introduced by the chief constable of Northamptonshire Police three years ago.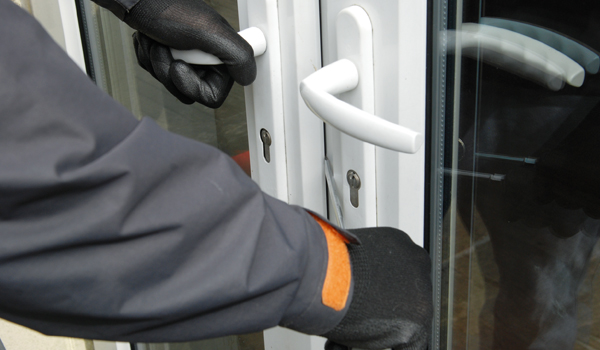 Commercial burglaries are also down by nearly 60 per cent after Nick Adderley launched Operation Crooked in April 2019.
The campaign to reduce burglary has been a major focus for Mr Adderley since he joined the force in 2018.
Two dedicated burglary teams ensure that every victim in Northamptonshire gets a visit from the police.
This has seen victim satisfaction levels rise to the second highest in the force at 79 per cent, just behind domestic abuse.
The two teams, which sit within CID and cover both the north and west of the county, have also worked on driving up the quality of investigations, managing and progressing forensic hits more quickly, hunting down wanted people, organising police patrols in areas of concern and gathering intelligence to prevent burglaries before they happen.
"Since April 1, 2019, when Operation Crooked was launched, home invasions have reduced by 50.9 per cent. This equates to approximately 2,500 fewer victims a year," said the force.
"Commercial burglaries have also gone down too with a reduction of 59.2 per cent in the past three years, equating to 1,299 fewer victims."
Since the operation began, hundreds of arrests for burglary offences have been made with prolific offenders sent to jail, the force added.
Detective Superintendent Emma James, head of crime, said: "It's been three years since Northamptonshire Police launched Operation Crooked and the teams have gone from strength to strength, with a real passion to tackle burglary and put the offenders behind bars.
"Burglary is a crime that people often underestimate in regards to just how much it affects victims. Everyone's home is the one place that we are meant to feel safe and being burgled completely violates that feeling of security.
"That's why burglary is so important to us and my message to burglars in this county is simple – we have made Northamptonshire a hostile place for you and our burglary team detectives remain solely dedicated to catching you and putting you behind bars."
However, she added: Let me be clear that whilst a 50 per cent reduction is good, we know that there is much more to do, and I want to reassure the people in this county that we will not take our foot off the gas in our aim to reduce these numbers even further."
Stephen Mold, Northamptonshire's police, fire and crime commissioner, said: "It is absolutely fantastic to see that the numbers of burglaries have dramatically reduced and are doing so year-on-year, and this shows how effective the new approach has been.
"It was a key priority for me to ensure that a better service was provided to victims of domestic burglary, and Operation Crooked and the two burglary teams in CID are meeting the challenge to ensure that every victim of burglary receives a visit from Northamptonshire Police.
"That approach is now leading the way nationally and I celebrate that success that has driven down the number of incidents and given victims a far better service when crimes do happen.
"The stats really do back up what a huge success this has been, both in terms of the reduction of crime but also in terms of victim satisfaction levels, and this is down to the very hard work of all involved."
Mr Adderley said there has also been "real performance progress" in tackling the 'Matters of Priority' he identified for the force over the past 12 months, with almost all targets achieved.
On knife crime, the force recorded a reduction in serious harm offences with a fall too in the number of repeat offenders and a rise in police positive outcomes when an offence is detected and resolved for the victim.
In Wellingborough, for example, where Operation Revive has proactively tackled knife crime over the past year, offences fell by almost 30 per cent.
Significantly too, there has been a drop in the number of robberies where knives were used by perpetrators, said the force.
It added: "A total of 1,176 knives were recovered over and above those surrendered in formal amnesties, meaning fewer weapons were in the hands of offenders."
On domestic abuse, force data shows a reduction in repeat victims and repeat offenders and improved response times from officers called to incidents.
"More arrests have been made at a time when the national trend has been decreasing and more victims have been successfully protected as a result of different tactics, including an increase in the use of Domestic Violence Protection Orders (DVPO)," said the force.
Northamptonshire Police has also seen some notable successes in tackling serious and organised crime over the past 12 months, with a recorded increase in drugs trafficking offences.
This included the largest single seizure of Class A drugs when a lorry packed with almost 800 kg of narcotics and a street value of £78 million was recovered in Brackmills, Northampton, last December.
Firearms seizures are also up, including components and ammunition, rising from 1,017 in the previous year to 1,665 in the past 12 months.
More fraud offences have been detected while the detection rate for cyber-related offences – identified by the force as an "emerging trend" – has also increased with fewer repeat victims.
Anti-social behaviour was also identified as a threat and concerted efforts by officers has helped to reduce demand – which had peaked during the initial Covid-19 period – while there were also fewer repeat victims being targeted, according to the force.
Mr Adderley said the data was testament to the superb work of his officers and staff who had tackled these areas head-on and delivered an improved service for victims and wider communities.
He said: "A year ago we listened to what the Northamptonshire public was telling us and we have gone out and significantly improved our performance against these crime types.
"Nationally, we were ranked eighth across all 43 police forces in terms of the number of positive police outcomes we achieved for victims. This is a step-change in terms of performance and meant we recorded the second best year-on-year improvement nationally.
"We strive constantly to build public trust and confidence in policing in this county.
"Be under no illusion, we are not there yet, but I hope the upward trend is an indicator of just how much this force has progressed, evidenced by the improvements identified in our latest Her Majesty's Inspectorate of Constabulary and Fire and Rescue Services inspection report."