DCC Mark Webster named preferred candidate for Cleveland chief constable
The deputy chief constable of Cumbria Police, Mark Webster, has been named as the preferred candidate for chief constable of Cleveland Police.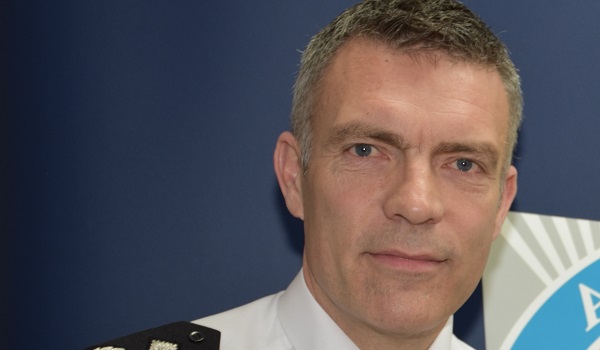 Following the announcement, Cleveland police and crime commissioner (PCC) Steve Turner said: ""I am delighted to select Mark as my preferred candidate for the role of chief constable. At every stage of the assessment process, Mark proved himself as a talented and dedicated police leader with a wealth of experience in operational policing."
Mr Webster will be the seventh chief constable to lead the troubled force in the space of a decade.
A recruitment campaign for the position was first launched in August 2021 after the then chief constable, Richard Lewis, gave notice to take up the post of chief constable of Dyfed-Powys Police.
Two candidates were shortlisted but Mr Turner ultimately decided that neither were suitable for the position and decided to start the process over again.
Prior to launching the second search for a new chief, the PCC's office conducted a consultation with Cleveland Police's workforce. It sought their views on what qualities they would like in the next chief constable.
The 343 respondents selected strong leadership, a commitment to stay in the role long-term and being approachable as their top three priorities. This feedback was used to shape questions asked by the internal interview panel.
Mr Turner said: "Cleveland is not an easy place to police, and therefore we needed a process that was going to put candidates to the test and draw out their extensive skills and experience.
"This was a rigorous exercise, with two days of interviews and three different interview panels. This is not only a major challenge for those being interviewed, but allows me to ensure fairness and diversity in opinion is protected at all stages of the process.
"I'm particularly pleased that we were able to hear from so many members of Cleveland Police's workforce, who we know are seeking visionary leadership and stability from their next chief constable.
"Mark's appointment comes at an important time for the force, which still has a significant way to go in improving the service they provide for the residents of Cleveland. I look forward to working with Mark to ensure our area has an efficient and effective police force in the years to come."
Mr Webster began his career with Greater Manchester Police in 1992. He then joined the National Crime Squad and then transferred into the Serious Organised Crime Agency (SOCA) at its creation in 2006.
At SOCA he ran the cybercrime unit, managed the transition of specialist National Police Improvement Agency (NPIA) units into the National Crime Agency (NCA), and then went on to command those functions in addition to Armed Operations, Anti-Corruption, Technical Operations and the UK Human Trafficking Centre.
Before joining Cumbria Police, he was director of intelligence and operations at the NCA where he was strategic firearms lead and a specialist strategic firearms commander. He led and managed the NCA's investigative and covert assets both within the UK, and overseas with international partners.
Mr Webster joined Cumbria Police in July 2017 as assistant chief constable. He was promoted to deputy chief constable in March 2018.