Daily contact testing announced for frontline police officers
Some frontline police officers working in critical roles in England will be able to take daily Covid-19 tests instead of going into self-isolation under an expanded scheme being rolled out by the Government.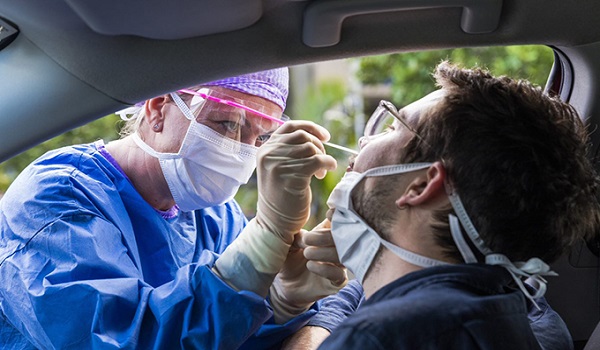 Some police officers, firefighters, Border Force staff and transport workers were already eligible for a self-isolation exemption, but only if their employers specified their names and they were double-jabbed against Covid-19.
The Government on Saturday (July 24) announced an expected initial extra 200 testing sites would be opened so that daily contact testing could be "rolled out to further critical workplaces in England".
National Police Chiefs' Council (NPCC) chair Martin Hewitt, said: "The recent increase in coronavirus cases and the knock on numbers of people having to self-isolate has caused challenges for police forces. Our control rooms and custody suites have been particularly affected and this risked our ability to respond promptly to calls from the public.
"We have been working closely with the Home Office to find a solution and I welcome this announcement which will help to alleviate some of the pinch points we have seen in the past week. The NPCC will now explain the process to police forces.
"We'll continue discussions with government to ensure we maintain our resilience and are there when the public need us."
The scheme will enable eligible officers who have received alerts from the NHS Covid 19 app or have been contacted by NHS Test and Trace and told they are a contact and to isolate will be able to continue working if they test negative.
New testing sites will be allocated for frontline police and fire services to ensure critical staff can continue their vital work.
Home Secretary Priti Patel said: "Our brave police officers and fire fighters have shown throughout the pandemic that they have worked tirelessly to keep us safe and serve their communities.
"Border Force have played a vital role in the national effort to keep goods and supplies coming into the country as well as keeping our borders secure. Daily testing will keep our frontline teams safe while they continue to serve the public and communities across our country."
Health and Social Care Secretary Sajid Javid added: "Throughout the pandemic, our frontline emergency services have continued to keep us all safe, overcoming enormous challenges to do so.
"As we learn to live with the virus, we must do everything we can to break chains of transmission and stop the spread of the virus. Daily contact testing of workers in these critical sectors will help to minimise any disruption caused by rising cases in the coming weeks, while ensuring staff are not put at risk."