Cybercrimes now 'on a scale and boldness not seen before'
Collaboration will be key to fighting back against the "ramping up" of cybercrime, according to the gold commander for May's NHS ransomware attack.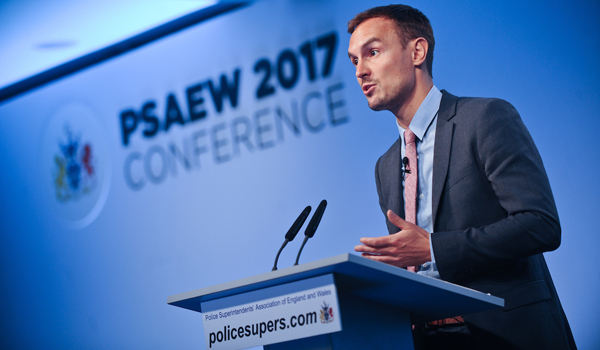 Collaboration will be key to fighting back against the "ramping up" of cybercrime, according to the gold commander for May's NHS ransomware attack. Officers from across UK law enforcement were involved in the response to the WannaCry software that crippled large parts of the NHS's computer systems. Oliver Gower, Deputy Director of the NCA's National Cybercrime Unit, described their work as a "truly joined up law enforcement effort" that shows what police are capable of when working together. He also warned that the breach demonstrated how cyber crime is "ramping up" and disrupting people's daily lives. Mr Gower told the Police Superintendents' Association of England and Wales conference: "The message from WannaCry was clear. Cybercrime affects our local communities in the most fundamental ways but we are able to respond very effectively if we work together. "The challenge to us all is to deliver that response not just when there is a national emergency, but to do it in an ongoing 'business as usual' way that this continuous threat demands." The WannaCry attack began on May 12 when malicious software infected computers across the world and demanded payment for them to be unlocked. Although the NHS was badly affected, with operations delayed and GP surgeries forced to close, the attack appears to have been indiscriminate. Officials have suggested that a group based in North Korea was responsible. Just over a month later, another cyber attack took down several businesses across the US and Europe using malware known as 'Petya'. And last November, Tesco Bank lost £2.5 million to an "unprecedented" breach of its online accounts. Addressing the conference on Wednesday (September 6), Mr Gower said the past year "has been punctuated by cyber attacks on a scale and boldness not seen before". He added that cybercrime is only likely to grow in prevalence as internet-connected devices become even more common. To ensure the UK is as safe as possible from future attacks, Mr Gower recommended forces study the close collaboration between agencies in response to the WannaCry attack. The immediate investigation was led by the NCA with the support of the National Cyber Security Centre, while regional organised crime units (ROCUs) deployed to NHS sites to help victims and preserve evidence. They were assisted by City of London Police, which issued advice on how to protect against infection and focused on maintaining its Action Fraud service. The National Police Operations Centre also briefed police leaders and was on standby to mobilise forces if the situation degraded further. However, Mr Gower said local responses to cyber attacks are far less encouraging as only a quarter of forces have a designated cyber capability. He also advised against tackling cases in isolation and said forces need both access to each other's information and a consistent approach to prevention advice. The National Police Chiefs' Council (NPCC) has agreed a new national tasking model for cyber that treats ROCUs as a nationally-networked resource against cybercrime. Chief Constable Peter Goodman, NPCC lead for cybercrime, is putting forward options for expanding the national model to the local force level. Mr Gower asked officers to champion this cause and push hard for closer working within their own forces. He said: "The challenge is stark. It is my ask, and it's the ask of Chief Constable Peter Goodman, that we all step up to the mark. "That means at a national level improving our reporting capability, and improving our leading and the support and coordination we provide for national agencies. "It means regionally operating in a flexible and agile way across borders and it means at a local level, in your forces you must push hard to build and deliver the response to your victims in the context of this threat."