Cumbria PCC to take over governance of fire and rescue service
Approval has been given for Cumbria's police and crime commissioner (PCC) to take control of the fire and rescue service from April 2023 as part of the local government reform programme.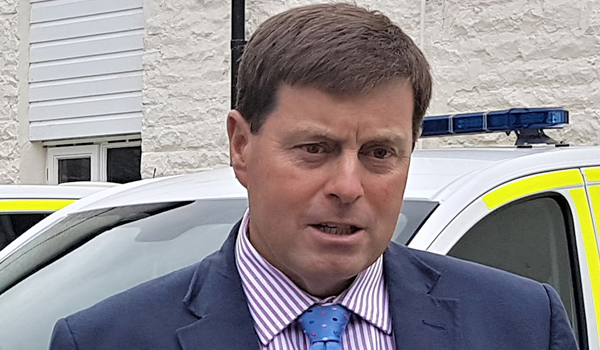 Governance of Cumbria Fire and Rescue Service (CFRS) is currently held by the county council, which will be replaced next year by two unitary authorities of Cumberland and Westmorland and Furness.
PCC Peter McCall said "it made sense" to bring governance of the CFRS under his office to ensure there is no disruption to the service.
The transfer has been approved by the Home Secretary and means that for the first time Cumbria will have a police, fire and crime commissioner.
Mr McCall made it clear that this affects only the "governance responsibility" for CFRS currently held by the county council, which will cease to exist in April 2023, and that the responsibility for delivery of its operational capability remains with the chief fire officer.
He said: "As the county council is replaced next year by two unitary authorities and new potential legislation will require a nominated and elected individual to assume responsibility for fire governance, it makes sense to bring governance together with the Office of the PCC, which already carries out a similar function for policing.
"The essential mission is to ensure that there is no disruption to the delivery of fire and rescue services to the public across the county and the protection of support services and staff in a smooth transition which will take some time."
Mr McCall added: "I see my role, in addition to governance of CFRS on behalf of the public, is to support the service by seeking the best possible resource for this essential service, to improve infrastructure and ensure that we develop staff, training and equipment, to be ready for future challenges and above all to keep residents safe."
Councillor Jonathan Brook of Westmorland and Furness Authority said: "The transfer of fire and rescue service governance to the PCC is a pragmatic solution, providing a common focus for blue light service delivery across the county.
"I look forward to working together in partnership to help deliver the best possible services to all residents of Cumbria."
Councillor Janet Willis, Cumbria County Council's Cabinet Member for Customers, Transformation and Fire and Rescue, added: "As a fire authority, we will ensure that CFRS have the support they need to ensure a smooth transition to the PCC.
"CFRS delivers amazing work throughout the county to ensure the people of Cumbria and our visitors are kept safe and we wish the Service every success in their future."