Cumbria officer who chased down blood-soaked axe-wielder wins Police Bravery Award
A Cumbria Constabulary officer who single-handedly chased and caught an axe-waving blood-covered man has won a prestigious Police Bravery Award.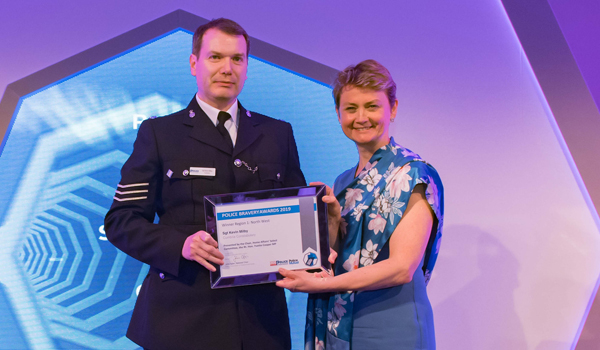 Sgt Kevin Milby was named as the Region 1 (North West) winner at the 24th  national Police Bravery Awards.
The awards, hosted by the Police Federation of England and Wales and sponsored by Police Mutual, were presented at the Royal Lancaster Hotel on Thursday (July 18), honouring and recognising police officers who perform outstanding acts of bravery.
Sgt Milby won the award after he ran after a man who was covered in blood and carrying an axe.
He challenged the man and told him to put the axe down, but the man ignored him and instead went into a shop still carrying the weapon. Sgt Milby followed him into the shop and used his Pava spray, which had little effect, so he single-handedly restrained, disarmed and handcuffed the offender.
Earlier the man had forced his way into a house and attacked someone with the axe, causing life-threatening injuries. Sgt Milby arrested the man for attempted murder and took charge of the scene by directing officers to manage the incident and make sure that no one else had been injured.
Speaking afterwards, Sgt Milby said: "Throughout my career I've faced incidents like that and other serious incidents. I'm aware it can really affect some people, but I've been fairly fortunate that it was a positive outcome for myself and my colleagues – and that no one got injured and that's the one thing we take away from it."
John Apter, National Chair of the Police Federation of England and Wales said: "These awards highlight the incredible bravery that police officers show every single day. Sgt Milby demonstrated outstanding courage and dedication, putting the lives of others before his own without a second thought."