Crime falls 21 per cent due to lockdown
The number of crimes committed in England and Wales has fallen by more than one fifth since the UK went into lockdown, according to figures released by the National Police Chiefs' Council (NPCC).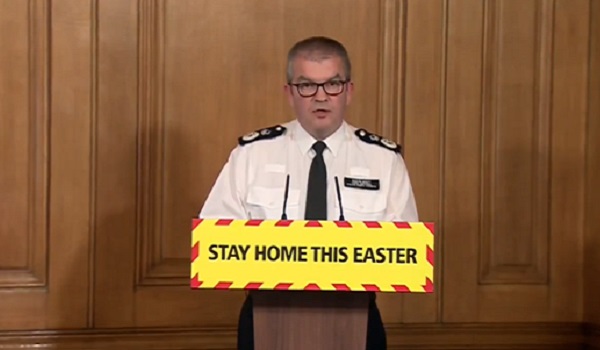 Speaking on Saturday (April 11) at the daily Downing Street press briefing on the Covid-19 crisis, Martin Hewitt, chair of the NPCC, said the "overwhelming majority" of the public were following the rules of the lockdown and staying at home, contributing to a 21 per cent fall in overall crime across the last four weeks compared to the same period last year.
However, Mr Hewitt said a small minority of people had refused to follow the instructions and that officers had needed to use their enforcement powers. Early data from 37 forces showed that 1,084 fines for breaking lockdown restrictions had been issued up to Thursday April 8.
"Across all of those forces, that is an average of less than 84 a day," said Mr Hewitt. "This shows that the overwhelming majority of people are abiding by the rules and are staying at home to protect the NHS and save lives. It also shows that our approach – engage, explain and encourage, and only as a last resort, enforce – is working."
Mr Hewitt added that full data on enforcement, including figures from the Easter weekend, would be published in the next few days and that new figures would be published every two weeks for the duration of the lockdown.
Mr Hewitt also provided examples of police officers providing assistance to the most vulnerable members of society, such as two officers in Manchester who helped an elderly man to restore his electricity supply and fill his fridge with food.
He said officers on the ground had been getting great support from the public but also acknowledged that there had been a number of instances in which officers had been accused of being overzealous in their interpretation of the new legislation.
Parliament's Joint Committee on Human Rights has warned that police may be punishing members of the public "without any legal basis", while questioning, fining and arresting people who have not broken the law. Chair Harriet Harman said: "It remains a concern that some police forces will take a more proactive approach than is necessary and perhaps even lawful."
Last week, British Transport Police admitted wrongly charging a woman under the new Coronavirus Act, causing her to be fined £660 for a crime she did not commit.
On Saturday, Greater Manchester Police issued an apology to a man who was arrested and threatened with pepper spray after being detained on suspicion of breaching lockdown guidelines. The man is believed to have been delivering food to vulnerable members of his family and was later de-arrested and issued with a fixed penalty notice.
A spokesperson for the force said: "Although the matter is being investigated fully by our professional standards branch, our initial review shows that the incident wasn't dealt with in the professional way we would expect and we apologise for that."
Mr Hewitt said: "In the UK, police gain their legitimacy and authority from the consent and support of the public. We are implementing the new regulations in that tradition of British policing."
"In those few cases where officers or police forces have made mistakes in interpreting new regulations, they have quickly sought to correct them and provide the necessary clarity. We will continue to be guided by principles of fairness, proportionality and common sense.
"I recognise it's important that the public are able to judge us on whether we are keeping to those principles – so we will publish enforcement data every fortnight as we move through this crisis."