CPS: 'Not enough evidence' to charge additional suspects over Hillsborough
No more former officers are likely to face criminal prosecutions in relation to the Hillsborough disaster and its aftermath.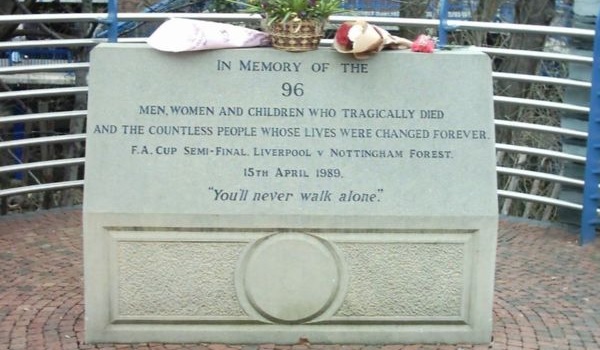 The Crown Prosecution Service (CPS) has confirmed it will not charge two ex-West Midlands Police (WMP) officers, whose actions were referred for consideration of possible charges of perverting the course of justice, misconduct in public office, or conspiracy to do so.
At the same time, the Independent Office for Police Conduct (IOPC) announced that it had decided not to refer three former senior South Yorkshire Police (SYP) officers to the CPS for prosecution, following a further review of allegations that they engaged in a cover-up after the disaster.
Relatives of the 96 people?killed at Hillsborough?in April 1989 have severely criticised the CPS for failing to properly explain its decisions and not to charge any ex-WMP officers with criminal offences relating to the force's original investigation into the disaster.
The CPS had been reviewing a West Midlands Police evidence file linked to two suspects that was referred to it by the IOPC last year. West Midlands Police was called in to review the conduct of South Yorkshire Police officers following the disaster.
The WMP officers faced allegations they "failed to investigate the cause of the Hillsborough disaster properly, either deliberately to assist South Yorkshire Police or otherwise negligently, and/or that a misleading or incomplete file was submitted to the Director of Public Prosecutions in 1990".
The CPS explained that there was evidence that "some aspects of the investigation were not carried out to a high standard". It added: "However, there is a lack of evidence showing any deliberate plan or action by the suspects to hinder it."
The statement also said there was a "difficulty in attributing responsibility for all of the failings to these suspects," and that: "There is no evidence that, as alleged, one suspect intentionally provided an inappropriate selection of evidence to the DPP."
The IOPC also released details of its findings in relation to three ex-SYP officers who were considered to be suspects but whose cases had not yet been referred to the CPS. It was alleged they sought to deliberately mislead the Lord Justice Taylor inquiry, the contributions hearing and the original inquest proceedings.
There was some indication that two of the three former officers may have committed a criminal offence but the CPS ruled it was not appropriate to refer their cases because they had already rejected the possibility of bringing criminal charges based on evidence reviewed in 2016.
It added that no further evidence or legal matters had since been identified that could "realistically alter that view". The IOPC confirmed the cases were not being passed to the CPS.
Strategic lead for Hillsborough, Rachel Cerfontyne, said: "At the core of my decision not to refer these SYP officers for formal charging decisions is the CPS's clear view that charges would not be brought and the risk that a referral could cause disruption to the forthcoming Hillsborough trials.
"The evidence gathered by the investigation team has been wide ranging and thorough. I have reviewed it very carefully, as I know the CPS have done.
"This will now be used to determine if any officer involved in Hillsborough would have had a case to answer for misconduct if they were still serving. These findings, along with underlying evidence, will be set out in full in the Hillsborough final investigation report."
In a letter of explanation sent to victims' families, Sue Hemming, Head of Special Crime and Counter Terrorism Division at the CPS, said: "I appreciate that my decision will be disappointing to you.
"I would like to reassure you that in reaching this conclusion, we have spent a significant amount of time reviewing and considering the evidence that was submitted to us. "As you know, the standard of evidence required for any criminal prosecution is high."
The CPS is not considering any other files in relation to Hillsborough. Responding to both decisions, Margaret Aspinall, the chair of the Hillsborough Family Support Group, said that families had always been outraged by the West Midlands Police investigation, and the way some of its officers conducted it.
"We are disgusted and disbelieving that no charges are being brought against any West Midlands officer," she said. "The CPS have not explained to families what their 'threshold' is for charges – or what more evidence they needed.
"It is really important that justice is seen to be done, and that a strong message is sent to all police officers. I am disgusted by this."
The update comes nine months after charges were brought against six suspects, including former West Yorkshire and Merseyside Chief Constable Sir Norman Bettison.
They are due to go on trial at Preston Crown Court on various dates in late 2018 and 2019. They also include Hillsborough match commander David Duckenfield who is due to go on trial sometime in September 2018 alongside Graham Mackrell, the former Sheffield Wednesday club secretary, who faces health and safety and sports ground safety offences.
Three other defendants – ex-Chief Superintendent Donald Denton, former Detective Chief Inspector Alan Foster, and retired force solicitor Peter Metcalf, who acted for South Yorkshire Police following the 1989 disaster – are scheduled to go on trial in January 2019. Ahead of the scheduled trials the six intend to mount an 'abuse of process' application, although the specific grounds have not been made public.
Due to a legal restriction, a court will now sit next month to hear legal arguments over whether ex-Chief Superintendent Duckenfield will face 95 counts of manslaughter by gross negligence. Meanwhile, public nominations have put the Hillsborough football stadium on a shortlist of locations to be included in Historic England's A History of England in 100 Places.
The project identifies places that define events and "best represent the history of England". In referring to the impact of the Hillsborough disaster, historian Mary Beard, who judged nominations for the shortlist, said: "This is such a powerful symbol of human tenacity in pursuit of justice after terrible loss of life."
Other places in the Loss and Destruction category include the ruins of Whitby Abbey in North Yorkshire, the Mary Rose, Portsmouth and The Monument, Pudding Lane, London.
A Historic England spokesperson said: "We have chosen the spots that are widely agreed to have witnessed historic events. History is often disputed and part of our job is to raise a debate and help people to engage with their history."