Court to consider banning London gang from making drill music 
The Metropolitan Police Service (MPS) will apply for Criminal Behaviour Orders (CBOs) to prevent five members of a gang from promoting violence through music after they are sentenced later today (June 7) for conspiring to commit violence.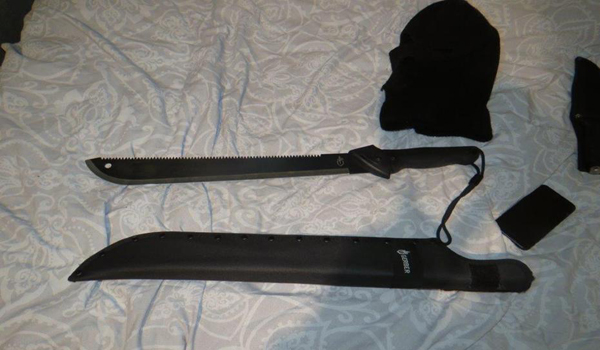 The gang from Notting Hill pleaded guilty on May 16 to arming themselves with baseball bats and machetes to take on a rival gang. 
After they are sentenced the court will consider whether to impose CBOs to ban the gang from making drill music – a genre of rap – for the next three or five years. 
They may also prohibit them from entering certain areas or neighbourhoods, wearing masks or balaclavas and making gang-related hand gestures. 
The MPS has collated two years' worth of intelligence from their social media activity, including music made by the gang. 
The five who will be sentenced are Micah Bedeau, 18, Yonas Girma, 21, Isaac Marshall, 18, and two 17-year-old males who cannot be named due to their age. 
The defendants were stopped by police in Colville Square, London W11 on November 9, 2017 during a proactive operation to target gang violence in the area. They were in or close to a car and armed with four large machetes and baseball bats, plus masks, balaclavas and gloves. 
The court heard the group were about to launch an attack on a rival gang from Shepherd's Bush, possibly in retaliation for an incident involving the grandmother of two of the gang's members. 
A YouTube video had been posted showing a Snapchat broadcast of the grandmother being harassed, abused and threatened by members of the rival gang, leaving her distressed – simply because she was in their postcode area. 
The video concluded with: "Lucky I don't rock her face" across the screen and: "Horrid1ComeGetYourNan" – the court heard Horrid1 was the street name for Micah Bedeau and the video was designed to goad the Notting Hill gang into action. 
Officers saw a youth get out of the car, a black Nissan Juke, with his face covered and holding something metallic to his right side. 
On seeing the police, he made off and was chased and detained by an officer. A large machete was found hidden down his trouser leg. 
Girma, Marshall and another youth were discovered inside the Nissan. Officers found a large machete-style knife on Marshall and another on the back seat. In the front passenger footwell was a baseball bat with a second found in the boot. Gloves and a balaclava were also found inside the car. 
Bedeau was found and detained in the communal hallway of a black of flats in Colville Square. Inside his address officers found a large machete, a small knife and a balaclava. 
The five were arrested and subsequently charged. 
There had been a long history of disputes between the gangs but the defendants told the court they were on their way to make a music video when stopped by police and the weapons they had were simply props. 
One song called 'No Hook' featured on the gang's social media and included lyrics such as: "Clock me an opp (opposing gang member), wind down the window, back (get) out the spinner (revolver firearm) and burst (shoot) him." 
"I put bullets in numerous guys like how come the opps (opposing gang members) ain't learning?" 
"OT trip (out of town or county line) trying to get some funds (money). We get bread (money) and invest in guns. Dem boy run when we tapped **** Ching (stab) Splash (stab) aim for his lungs." 
"Man lurky (creeping around with intent) that's standard. That's gang that's gang. Four men on two peds (mopeds) jump off with my shank (knife) leave an opp (rival gang member) boy splattered (covered in blood)." 
Detective Superintendent Adam Lowe, from the proactive team at the Trident and Area Crime Command, said: "Seven music videos were shown in court as evidence of the aggressive and violent nature of the suspects. The lyrics referenced several real and often violent events. Their aim was purely to glorify gangs and violence.  
"At Trident and across the Met we are very clear we will take decisive action to get videos of this nature removed from the internet; despite what the gangs may claim, there is a clear link, as in this case, to violence. And we will bring those videos before the courts to demonstrate the intention of those who make and take part in them to cause violence and disorder. It is just one of the tactics we use as part of our continued work to tackle violence on London's streets. 
"There is no doubt the five defendants that day were in the process of setting out to cause some very serious harm to their rivals. They equipped themselves with huge knives and I am sure there would have been some life-changing injuries inflicted or worse had the police not intervened." 
Drill music is a style of rap that originated in Chicago but gained popularity first in south London and spread throughout the capital. The videos often feature young people wearing masks portraying gun signs and threats and references to violence. 
Last month, the Press Association revealed that YouTube had agreed to remove 30 videos out of "50 to 60" identified by the MPS as drill music.