'Courage and excellence' of Scotland's officers honoured at Federation awards
The bravery and commitment of Police Scotland's officers has been recognised at the largest ever Scottish Police Federation awards.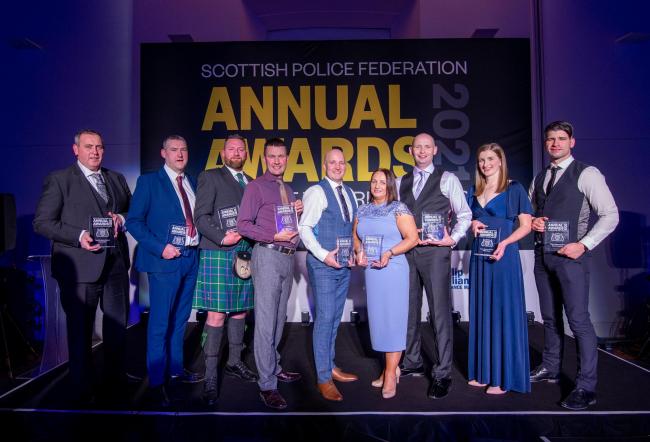 Chief Constable Iain Livingstone said the stories that have emerged from communities across Scotland underline "the courage and excellence" demonstrated by his officers.
More than 100 nominees were put forward for a range of categories.
The winners include an officer who rescued a woman from an island home while facing down a knife-wielding man – knowing the nearest help was at least 90 minutes away – and a dog handler who was named 'Cops' Cop of the Year' after repeatedly attending high-risk incidents and saving lives in Glasgow with his "trusted companions".
Three officers in Aberdeenshire were also commended for the way they dealt with an "unprecedented" murder scene.
Others were recognised for outstanding commitment to their local communities, while a special Chair's Award was given to two officers in Glasgow.
The six winners were announced at a ceremony in Edinburgh last week.
Mr Livingstone, Cabinet Secretary for Justice Keith Brown and Scottish Police Authority chair Martyn Evans were among those presenting the awards.
Mr Livingstone said: "Every minute of every day, Police Scotland officers step forward with bravery, compassion and professionalism to protect their fellow citizens. I thank and pay tribute to our officers and their families for their commitment and public service.
"I am grateful to the Scottish Police Federation for underlining and recognising the courage and excellence demonstrated by police officers in Scotland to keep people safe."
The winners were:
Individual Bravery – Clare Chalmers (Isle of Mull): Island officer who tackled knife-wielding abuser alone while help was 90 minutes away;
Group Bravery – James Will, Alison Davis and Dayle Crawford (Aberdeenshire): Constables who dealt heroically with 'volatile, unprecedented' scene;
Community Commitment Award – Brad O'Neill (Inverness): Beats officer whose commitment helps rebuild relationships with a deprived community;
Unsung Hero – Ross Blain (Kirkintilloch): Described as a popular local cop trusted by his chiefs and known for mentoring younger officers; • Cops' Cop of the Year – David McIntyre (Glasgow): Dog handler who always volunteers to be the first on the scene; and
Chair's Award – David Whyte and Cameron Wandrum (Glasgow): Ongoing live case.
David Hamilton, chair of the Scottish Police Federation, said: "Police officers have faced unprecedented challenges over the last two years.
"Now is the perfect time to pause and reflect on what it is to be a police officer.
"That's why we've expanded these awards to be the biggest yet, so we can recognise not just outstanding acts of bravery, but the overall commitment shown by police officers in their communities.
"There are many characteristics which help form a remarkable police officer – we've recognised many of these with this awards ceremony.
"The winners thoroughly deserve their prizes, but all the nominees should be proud of what they have achieved and the work they have carried out.
"They have demonstrated the very best of policing, and we should unashamedly celebrate the men and women who work so hard every day to keep Scotland's streets safe."
---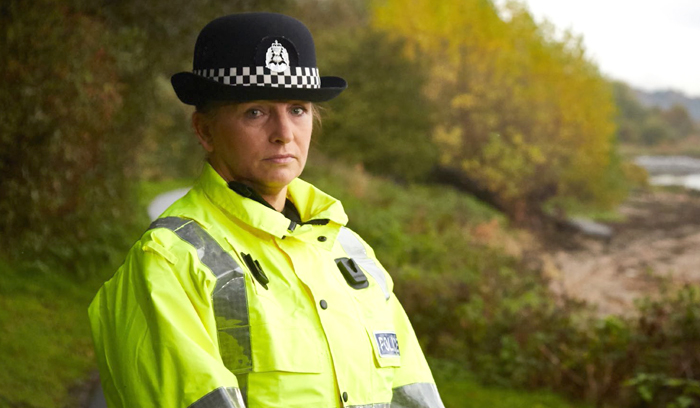 Individual Bravery – Clare Chalmers (Isle of Mull)
Police Constable Clare Chalmers faced down a knife-wielding man alone and took a female assault victim to safety, even though the nearest help was an hour-and-a-half away.
The officer from the village of Bunessan was called to reports of a violent male at a home in the remote south part of the Isle of Mull.
There, she found a female covered in blood who said she had been assaulted by a man in the property.
She tracked down the accused in another room hiding under a duvet, at which point he produced two knives at the officer.
Despite knowing assistance was so far away, she removed the weapons from the man and took the woman to safety.
As there are no tasers on the island, PC Chalmers had to use pepper spray. She remained on the scene long into the following morning.
A helicopter later arrived to arrest the man, who pleaded guilty and received an eight-month jail sentence.
Her Scottish Police Federation representative Karen Cameron said: "Despite the very clear dangers and threats of harm, PC Chalmers used her tactical skills to neutralise the threat enough to recover the weapons and the female from within the house.
"If she had not been so courageous the female could have been taken hostage, harmed further, perhaps seriously injured or worse.
"PC Chalmers was aware of the danger the suspect posed and went alone to ensure the safety of the victim knowing any assistance was hours away."
---
Group Bravery – James Will, Alison Davis and Dayle Crawford (Aberdeenshire)
The three constables – James Will, Alison Davis and Dayle Crawford – attended a tragic scene in a family home where one man lay dead while the suspect hid in the kitchen.
They received reports of a disturbance in rural Aberdeenshire in the early hours of the morning.
A householder, who had allowed a man who was being chased to take refuge, had been fatally stabbed, and when police arrived his wife was desperately trying to save his life.
Meanwhile, the killer and the man who had hidden in the home were still in the property, along with the victim's teenage daughter.
Despite the severity and uncertainty of the situation, the three officers managed to locate the suspect – who was later found guilty of murder.
After several minutes they managed to get the victim to release the knife he had used in the killing and detain him.
They then searched for the man who had been chased, but he had escaped from a bathroom window.
The officers were then able to secure the area, ensure the daughter was safe and administer first aid, while preserving vital evidence that was later used in the court case.
Scottish Police Federation representative Caroline Macnaughton said: "These officers were acutely aware that they were entering a volatile scenario where a male had been stabbed, the armed perpetrator and an accomplice were still potentially present and that vulnerable witnesses and the victim remained within the locus.
"In unprecedented circumstances they balanced their own safety against the needs of the victim and his family."
---
Community Commitment Award – Police Constable Brad O'Neill (Inverness)
In little over a year, Community Beats Officer Brad O'Neill has made a significant impact on an area of high deprivation.
His work has helped ensure people with varying challenges have become re-engaged in society and had their lives transformed by his generosity.
During the Covid pandemic he received reports of a child who had not signed in for online lessons while schools were closed.
As a result, PC O'Neill visited the home to find the family could not afford an internet connection, so immediately arranged for a local charity to install a free wifi hub.
That enabled the child to return to school and become fully engaged in education.
Other examples of his work include repairing the bike of a single mother for whom it was her only form of transport; organising a book collection for a primary school, which was running low on reading material; and taking a local male with learning difficulties out for lunch after he had become withdrawn following an assault.
And PC O'Neill's work goes well beyond simply community benefit.
His commitment to being an on-street presence in Inverness helped detect a rape and a serious assault.
Scottish Police Federation representative Ross Polworth said: "In this short time PC O'Neill has made a positive impact within the community and improved the area's relationship with Police Scotland.
"He has been involved in a number of initiatives to help the area and individuals that go well beyond his role.
"In addition to the examples provided, PC O'Neill has also assisted and carried out numerous other selfless acts that go well beyond his duty and are worthy of recognition."
---
Unsung Hero – Police Constable Ross Blain (Kirkintilloch)
The presence of PC Ross Blain in his beat of Kirkintilloch is so significant that he is hugely popular among fellow officers and the community.
Described as the "archetypal beat cop", he has contributed immensely to the local area for the past decade.
He is held in high regard both by new officers who are starting out in their career, and experienced detectives who regularly call on his input and expertise for serious and complex cases.
His persistence and attention to detail recently resulted in the apprehending of a male suspected of a sexual crime against a vulnerable female.
And despite the seriousness of the work he takes on, colleagues say he always turns up with a smile on his face and "regularly uses his sense of humour to brighten colleagues' days".
The community officer takes "personal responsibility" for his beat, and makes it "his mission" to solve crimes that take place there.
His Scottish Police Federation representative Ian Florence said: "Ross's supervisors can rely on him to undertake difficult and complex tasks, secure in the knowledge that these will be pursued with determination and vigour and that, while doing so, he will impart his sound methodology, ensuring that his colleagues learn and develop as a result.
"He goes out of his way to help his colleagues, especially those younger in the service, and he will often volunteer to introduce new officers to the local area and show them the ropes.
"A humble individual, Ross never seeks praise for himself but rather is satisfied that his efforts benefit the team and the community he serves."
---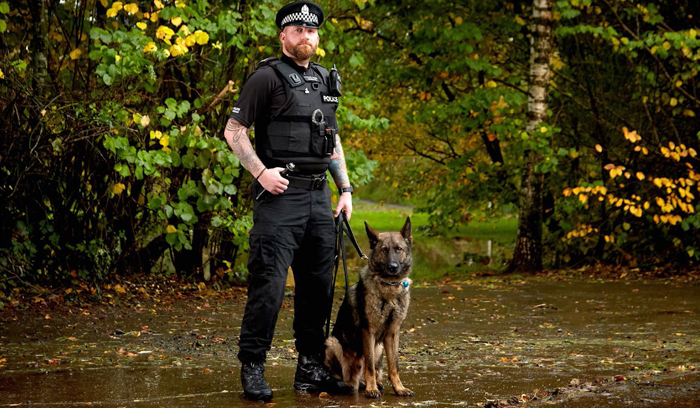 Cops' Cop of the Year – Police Constable David McIntyre (Glasgow)
The work ethic and dedication of dog handler PC David McIntyre has been praised by fellow officers across the west of Scotland.
The constable repeatedly volunteers to attend high-risk incidents, often before he has even been asked.
His response has led to a number of serious crimes being detected and vulnerable people being brought to safety.
Examples include finding a female at risk of suicide during heavy snowfall with the help of his dog and tracing a vulnerable teenager in Glasgow.
Being first on the scene is a common theme in his record of achievement, including when he saved the life of a man who had overdosed on drugs despite the high-risk environment he entered.
With the help of his dog, he also found the culprit of a serious road accident in Glasgow who had been hiding in a garden following the incident.
The perpetrator was badly injured, meaning PC McIntyre also had to ensure he received urgent medical attention. The man ended up being sentenced to five years in prison.
Scottish Police Federation representative David Taylor said: "A common acknowledgement from nominees is that David regularly volunteers to attend and assist at incidents despite being aware he may be the first officer at the locus pending the arrival of other colleagues.
"Colleagues additionally have nominated David for his professionalism and his personality when dealing with members of the public.
"It is quite apparent to the nominees that David sets a high standard to his role which they aspire to and appreciate."
---
Chair's Award – David Whyte and Cameron Wandrum (Glasgow) – live case.
---