County Lines crackdown sees almost 600 arrests in one week
Nearly 600 suspected members of County Lines drugs gangs have been arrested across the UK in the past week in a crackdown by the National Crime Agency (NCA).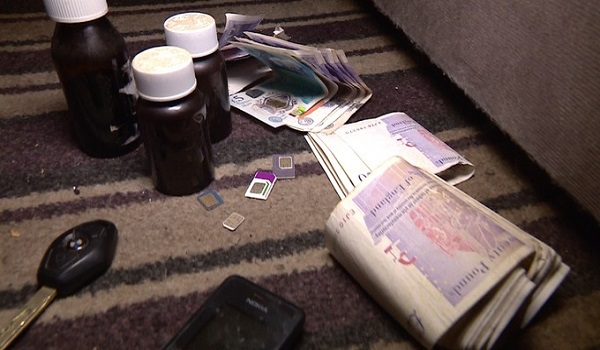 Police forces and Regional Organised Crime Units, led by the National County Lines Coordination Centre (NCLCC), also seized £176,780 worth of cocaine, £312,649 in cash and 46 weapons.
The NCA estimates there are around 2,000 city-based gangs exploiting young people to sell drugs in smaller towns and said tackling them was a "national law enforcement priority".
The operation, between May 13 and 20, led to the arrest of 500 men and 86 women in raids in Norfolk, Suffolk, Cheshire, Bedfordshire and other areas. In addition, 519 vulnerable adults and 364 children in need of support were helped and 30 people identified as potential victims of slavery or human trafficking.
Four guns were seized, as well as swords, machetes, an axe, knives, samurai swords and a crossbow.
This is the third time police forces have carried out these coordinated raids. NCA County Lines lead and director of investigations Nikki Holland said: "Tackling County Lines and the misery it causes is a national law enforcement priority and these results demonstrate the power of a whole-system response to a complex problem that we're seeing in every area of the UK.
"We know that criminal networks use high levels of violence, exploitation and abuse to ensure compliance from the vulnerable people they employ to do the day-to-day drug supply activity."
County Lines drugs gangs – linked by a network of mobile phone lines and often coercing children and vulnerable adults – travel out of their usual urban territory and into rural areas to sell drugs. Most of these gangs are from London, Birmingham and Merseyside.
Ms Holland likened gangs' exploitation of children to grooming for sex, saying these children often did not see themselves as victims because they enjoyed the attention and the gifts of drugs.
Gangs then used coercion, intimidation and violence to control the children, to keep them involved in running the drugs and to act as a "shield" from arrest and violence by rival gangs, she added.
Ms Holland said typical signs were children travelling long distances with older people or children going missing and having new and older friends.
The NCA said it did not yet have details of the ages of the 364 children who were picked up in the raids, but they could be dealt with in a number of ways, including being returned home if missing, referred to local services, referred to the National Referral Mechanism – which identifies victims of human trafficking – or placed under a protection order.
Ms Holland also called on professionals working with people at risk of being involved in County Lines operations to assist, saying: "It's the nurses, teachers, social workers, GPs and anyone who works with young or vulnerable people, that can really help to make a difference."
National Police Chiefs' Council lead for County Lines, Deputy Assistant Commissioner Duncan Ball, said: "The past week has seen police forces work together across the UK to send a clear message that we will do everything possible to dismantle County Lines gangs and protect the vulnerable being exploited by them.
"The large number of arrests and weapons seizures is testament to the hard work and dedication of officers across the country, the NCLCC and the support of key partners like social care, the NHS, schools and the charity sector."
Victoria Atkins, Minister for Crime Safeguarding and Vulnerability, said: "As a government we are determined to crack down on County Lines, disrupt the networks devastating communities and put an end to the violence and exploitation of children and vulnerable adults, but it's also imperative that we steer young people away from a life of crime in the first place.
Nathaniel Peat, founder of the Safety Box, an organisation that delivers programmes to young people to reduce violence, notes that many young people who serve prison sentences for drugs are exposed to more violence in prison.
"They can become even more vulnerable in prison, they're often under pressure to beat people up or will be beat up themselves," he explained. "They go in for drugs and come out violent, and that's when the knife crime rises."
Last week, three drug dealers from London and Kent who used vulnerable teenagers to traffic crack cocaine and heroin to Portsmouth were jailed in a "landmark case". They are believed to have been the first to have been charged with modern slavery offences.