Counter terror head 'determined' inquiry findings help shape response to terrorism
The head of Counter Terrorism Policing said he was determined that the findings of the public inquiry into the Manchester Arena bombing "help shape the UK's response to terrorism in the future".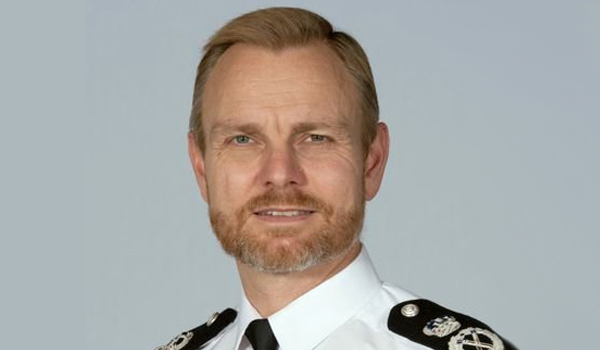 Matt Jukes said the recommendations were of "critical importance to all police forces and for national efforts to protect and prepare against terrorism".
Sir John Saunders' second report of the inquiry into the Manchester Arena bombing found that the response of the emergency services was "far below the standard it should have been".
Twenty-two people were killed and more than 1,000 injured when a suicide bomber detonated his device at the Arena on May 22, 2017, at the end of a concert by the singer Ariana Grande
Sir John has made a host of recommendations in his report, in particular that the Greater Manchester Resilience Forum should oversee, at least every six months, a regular tri‐service review of the major incident plans used by the emergency services.
He said that review should be to ensure that there is a "common understanding" of the plans of each emergency service. It should also ensure that the importance of joint working is embedded within each emergency service.
Sir John said Greater Manchester Police (GMP) also needs to ensure that its plans for responding to a major incident, including a terrorist incident, are reviewed regularly by those with the appropriate skills and experience to make meaningful improvements to each plan.
This must include a regular review of Operation Plato – a national pre-determined response to a marauding armed terrorist – which should include obtaining the views of those with experience of firearms policing and of performing the role of Force Duty Officer (FDO).
Sir John's report said the FDO in initial command of the Manchester Arena bombing response "quickly became overburdened by the number of tasks he had to undertake", which led to a "direct impact on the effectiveness" of the response.
GMP Chief Constable Stephen Watson admitted the force had "failed to plan effectively", and the execution of that which had been planned, was "simply not good enough".
"Our actions were substantially inadequate and fell short of what the public had every right to expect," he said.
"Our failure to effect proper command and control of the incident, from the outset, undermined an effective multi-agency response to a dreadful set of circumstances. We did not act upon learning from previous exercises which could have reduced the burden or impact felt on the FDO."
Si John's repor recommends that he Home Office, the College of Policing and Counter Terrorism Policing should ensure that all police officers to be appointed to the role of FDO or Force Incident Manager (FIM) attend "a comprehensive training course dedicated to Operation Plato before they take up their role".
"Such courses must ensure that those attending understand the exceptional demands that will be placed upon them in the event of an Operation Plato declaration," it added.
"Given the broad command responsibilities that the FDO or FIM will have in the early stages of the response to a major incident, the Home Office and the College of Policing should develop nationally accredited training to prepare those officers for that role."
Regarding British Transport Police (BTP), Sir John said its Major Incident Manual was deficient in a number of respects which were relevant to the response to the attack and its approach to participating in multi-agency exercises "should have been more rigorous than it was".
He said the force should conduct regular exercises, including joint exercises, to test its major incident plans and ensure that all police officers and staff are adequately trained in what will be required of them.
BTP Chief Constable Lucy D'Orsi accepted its "planning and preparation was inadequate to respond to an incident of this magnitude".
But she said its Major Incident Plan has since been "reviewed, simplified and improved" and officers are "better trained, including those in key command roles".
Sir John also recommends that His Majesty's Inspectorate of Constabulary and Fire and Rescue Services (HMICFRS), the College of Policing and the Home Office work together to put in place "robust systems, policies and guidance" to ensure that all police services have sufficient resources dedicated to the development of operational and contingency plans, particularly for responding to major incidents, including terrorist attacks.
There should be guidance for all police services on how often operational plans for responding to a major incident, including a terrorist incident, should be reviewed, and all police services should ensure that they have "robust version control arrangements in place for all plans".
Counter Terrorism Policing should also review the procedures by which it is notified of a terrorist attack "to ensure that all police services know that this is an early priority", the report said.
In a statement on behalf of the National Police Chiefs' Council, Counter Terrorism Policing and the College of Policing, Mr Jukes said: "Today, my thoughts are with the families who lost loved ones as a result of the terrible events of May 2017, and with the survivors whose lives have been deeply affected.
"They have shown a humbling resilience and dignity during the long and difficult inquiry process. This volume of the report includes harrowing descriptions of the victims' suffering, I can't imagine how difficult it must be for families to read this about their loved one's last moments.
"The shock felt by the people of Manchester was evident to me when I was deployed to the city to command specialist teams in support of the investigation; and the devastation wrought was clearer still after spending time with some of those affected.
"That is why all of us with a role to play in responding to this Inquiry are determined that its findings help shape the UK's response to terrorism in the future.
"The recommendations published today are of critical importance to all police forces and for national efforts to protect and prepare against terrorism.
"We have not waited for the Inquiry to conclude to strengthen our readiness and our resources.
"Since 2017, policing has worked shoulder to shoulder, locally and nationally, to make sure robust plans are in place to help police forces respond to terrorist attacks.
"Ensuring those plans are well-understood and well-practised across emergency services has been our focus.
"The report makes it very clear that this work is critically important and must continue. As we absorb the details, we will be searching for and exploring every opportunity to enhance our efforts to keep people and our country safe.
"Policing's commitment to all those affected by this attack, and the wider public, is that we will act quickly.
"Together with other blue light services and the Home Office we will ensure the work we've already done and the steps we take in the coming weeks, months and years, fully address the recommendations published today."
See https://assets.publishing.service.gov.uk/government/uploads/system/uploads/attachment_data/file/1115449/MAI-Vol2-Part_Ii_Accessible.pdf