Corrupt PC jailed after passing information to crime gang
A police officer who sold sensitive information from police systems to a member of an organised crime gang has been jailed for 28 months.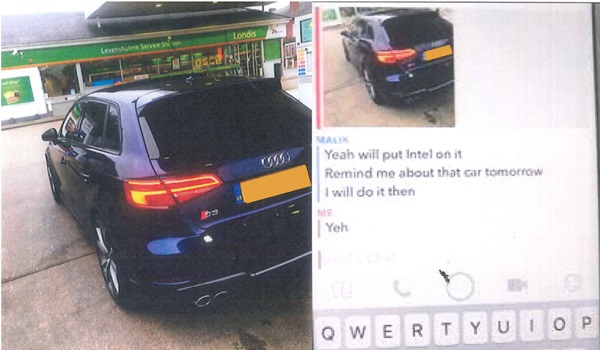 Mohammed Malik disclosed data and intelligence information from force systems while working as a constable with Greater Manchester Police (GMP). His activities can only now be reported after his co-conspirator Mohammed Anis was convicted of a number of offences including conspiracy to commit misconduct in public office.
The case presented by the Crown Prosecution Service (CPS) showed that there was a clear transactional relationship between Malik and Anis. Information was found to flow from Malik to Anis, with Malik having an expectation of money flowing in the opposite direction.
The information related to vehicles, some of which were involved in serious and organised crime. Malik also used the police computer system to perform multiple searches on a database that related to information held by the police about Anis and other individuals.
Anis sent a picture of a car through Snapchat and asked Malik to add the car to the police intelligence system, which Malik did the next day – suggesting the vehicle should be stopped as it was suspected of drug dealing.
Anis also asked Malik to provide information about a red Seat Leon that was recovered by the police with a bullet hole in the bumper. Police visited the car owner's address and left a handwritten note for him. An image of this note was recovered from Anis's phone.
Screenshots from WhatsApp conversations were used in court to prove Malik was helping Anis evade the police by suggesting that he stopped doing "business" and change the cars he was driving so police would not stop him.
Malik claimed his actions were the result of his mental health being affected by his involvement in the Manchester Arena bombing, but the judge at Liverpool Crown Court pointed out that his unhealthy relationship with Anis has begun before that tragedy.
Malik had joined GMP in March 2009 and quickly became a role model, giving encouragement and support to others from minority communities interested in following the same path.
Ben Southam, a CPS Senior Specialist Prosecutor in the Special Crime Division, said: "Mohammed Malik took advantage of his position of power and accepted money in return for helping Mohammed Anis. We gathered concrete evidence, including incriminating WhatsApp and Snapchat messages, leaving little option for PC Malik other than to admit his guilt. The jury also accepted that evidence in convicting Anis.
"This level of corruption is abhorrent, and I am pleased that the CPS and Greater Manchester Police were able to work together to bring an end to this conspiracy."