Contract extensions for chief constable and deputy
Chief Constable Mark Roberts has agreed a contract extension that will see him remain at Cheshire Constabulary until April 2027.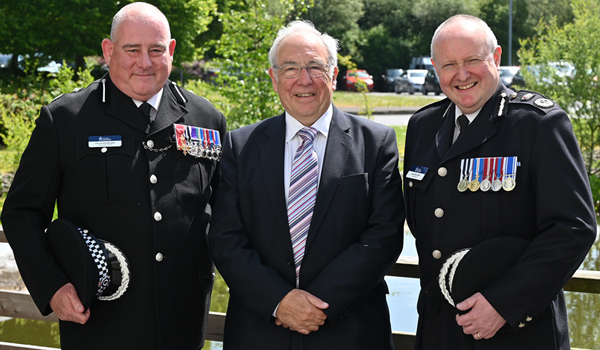 Deputy Chief Constable Chris Armitt is also extending his role through to August 2028.
The chief officers both joined the force in 2021 and have overseen significant improvements in performance across a number of key areas, including response times, crime reduction and the safeguarding of vulnerable people.
Figures released last month by the Office for National Statistics showed that Cheshire Constabulary was one of only two forces to see a reduction in crime across England and Wales for the 12 months to December 2022.
There was a reduction of 1.7 per cent in overall crime recorded across the county during this period, compared with the average national increase of 8.5 per cent.
Reductions have been seen across many crime types including violence against the person, robbery, burglary, criminal damage and public order.
These improvements have been praised by Cheshire's police and crime commissioner John Dwyer who said: "After reviewing the chief constable's performance, and the constabulary's too, I had no hesitation in offering the chief an extension to his contract.
"We took up our posts at a similar time and from day one, via the Police and Crime Plan and my scrutiny process, I have been clear about what the public expect their police service to achieve.
"The chief has been equally clear about the improvements he wants to drive across the constabulary and how these have been delivered, with recent performance statistics speaking for themselves.
"Making Cheshire a hostile environment for criminals is an ambition shared by me and the entire leadership team, so I am just as pleased that Deputy Chief Constable Chris Armitt will also continue in his role.
"I want to take this opportunity to thank the chief, deputy and every member of the Cheshire Police family for their continued commitment to making our county even safer."
Mr Roberts said: "I am delighted that the PCC has offered this extension to my contract. From a personal perspective I am enjoying the role immensely with Cheshire Constabulary. It is great force to lead and to be part of, and from an organisational point of view this provides stability to continue the improvements we've already made and enables us to build on our future plans.
"I am equally delighted that Chris has agreed to extend his contract with us. He is one of the most experienced officers in the country and has been absolutely key in the improvements we've made in reducing crime and increasing the number of criminals brought to justice.
"I hope that this announcement provides the confidence, stability and the continuity that the force requires in the coming years.
"It also sends a strong message out to those intent on causing misery and harm across the county that our relentless focus to catch them and hold them accountable will not be changing any time soon."