Concerns remain over crime recording despite improvements
Norfolk and Suffolk constabularies 'require improvement' in their crime data integrity after Her Majesty's Inspectorate of Constabulary and Fire and Rescue Services found they had not made sufficient progress since being inspected in 2014.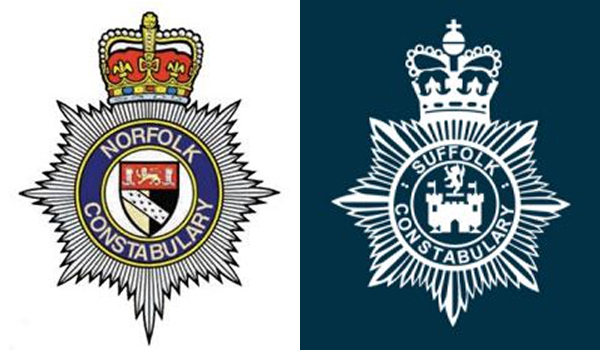 Both forces had improved crime recording practices and their leadership on crime data was 'outstanding'. However, they failed to: record enough crimes within 24 hours; appropriately record reports received from third parties; and collect enough diversity information.
Norfolk Constabulary also failed to always inform victims if their report is cancelled or transferred to another force.
The force recorded 87.5 percent of all crimes reported to it, meaning that an estimated 8,700 reports a year go unrecorded.
Norfolk Constabulary welcomed the report, saying it recognised that since its last inspection in 2014, the force has made a concerted effort to record crime more accurately. It claimed a recent major recruitment programme meant new officers are having to be trained to meet the high standards being set.
A spokesperson said: "The report is clear that the whole constabulary is committed to recording crime accurately and in the best interests of victims. It is also important to note that the report concerns the accuracy of how we record incidents that occur and not the quality of how those incidents have been investigated.
"Nonetheless, the report correctly finds that we have further improvements to make to improve the accuracy of our crime recording and we accept the recommendations of HMICFRS and have already started to recruit more staff to undertake auditing work. The accuracy of our crime recording will only improve if we do this.
"It is also the case that our recent rapid recruitment has inevitably led to a young and inexperienced workforce, so we are currently training all frontline staff to improve standards. Crime recording rules are incredibly complex and it will take some time for our workforce to reach the required level of understanding."
Suffolk Constabulary fails to record an estimated 5,300 reports of all types of crime. Recording for violent crime is a particular concern, with an estimated 3,600 reports a year going unrecorded.
It was also criticised for limited supervision of crime recording decisions.
Assistant Chief Constable David Cutler acknowledged the issues raised in the report and said Suffolk Constabulary remains committed to continue improving the way crimes are recorded.
"We are encouraged the report accepts the constabulary has made a concerted effort to record crime more accurately since the last inspection in 2014, and that officers and staff put victims at the heart of their crime-recording decisions.
"Inspectors also found Suffolk has one of the best sexual offence recording rates in the country.
"We understand the concern that 5,300 unrecorded crimes may cause, but this does not mean there are 5,300 victims that have not been identified or seen by police.
"There are instances where a principal crime has been recorded and the victim's safeguarding needs have been managed, but other crimes subsequently disclosed by the same victim have not been recorded.
"Although crime recording rules can be complex, we are determined to swiftly address the issues raised.
"A significant programme of work began in this area before the inspection and it will continue as we strive for the required improvement."
Both forces were given the 'requires improvement' grade for crime data integrity.