Commissioners back 'non-fatal strangulation' amendment to Domestic Abuse Bill
The victims and domestic abuse commissioners are backing calls for an amendment to the Domestic Abuse Bill that would create an offence of strangulation or asphyxiation.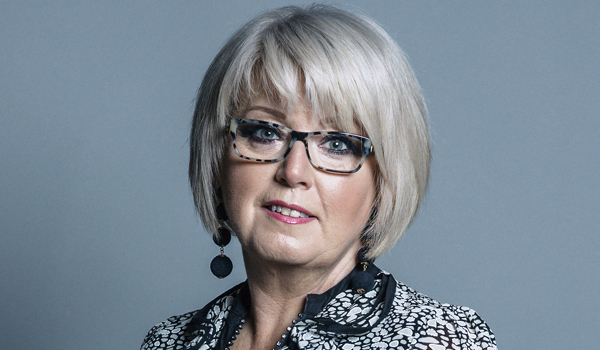 They say the law as it stands is "not fit for purpose" and is currently "failing victims and survivors".
The Domestic Abuse Bill returned to the House of Lords for a second reading yesterday (January 5), with the Conservative peer and former Victims' Commissioner, Baroness Newlove, putting forward an amendment to make non-fatal strangulation a specific criminal offence in England and Wales.
Baroness Newlove said creating a stand-alone offence presents "a unique opportunity" for the Government to turn the tide on the "shockingly high number of victims".
It is being backed by Victims' Commissioner Dame Vera Baird and Domestic Abuse Commissioner Nicole Jacobs, as well as a cross-party alliance of peers and campaign groups.
At present, police can only take action under common assault laws, but campaigners say it is rarely prosecuted and in many cases it is overlooked because it often leaves little sign of injury on a victim.
Figures suggest strangulation is the second most common cause of death for women as a result of domestic violence, after stabbing, and is a known indicator for homicide. Attacks on women involving strangulation increased the risk of death seven-fold, say the commissioners.
"It would be an unforgivable missed opportunity if the Bill did not address this issue," Baroness Newlove told the House of Lords.
"More than half the victims of recurrent domestic abuse experience strangulation. It is estimated that 20,000 women per year – or 55 women every day – who have been assessed as high risk and suffer physical abuse have experienced strangulation or attempted strangulation.
"A woman or girl is violently killed in this way every ten days.
"To make this a stand-out Bill, and to make it what it should be, we need to change the law, as the lives of many people depend on us making this change."
Baroness Burt of Solihull voiced her support for a change in the law, telling the Lords: "Somewhere in this Bill, we need to recognise a new offence: non-fatal strangulation – a shocking and horrific means of abuse, designed to terrify and achieve compliance in victims.
"There are few external visible signs, except when the victim is actually killed, but it causes unconsciousness and many other nasty consequences, including mild brain damage, fractured larynxes and even strokes.
"This must be recognised as a distinct offence in its own right so that it is treated sufficiently seriously by police and prosecutions and not just prosecuted as an assault. It is far more serious than that."
Dame Vera and Ms Jacobs are due to meet Justice Secretary Robert Buckland on January 7 to discuss potential changes to the Bill, which has been described as a "once-in-a-generation opportunity to transform the response to domestic abuse".
In a joint statement they said: "We wholeheartedly support this amendment, which seeks to introduce a standalone offence of non-fatal strangulation or asphyxiation. Non-fatal strangulation or asphyxiation is an utterly terrifying experience and can cause significant long-term mental and physical trauma to victims and survivors. It can also be a matter of life and death.
"Over a quarter of all female homicides are by strangulation and non-fatal strangulation is widely recognised as a risk indicator – victims are seven times more likely to be killed at the hands of their partner if they have previously been non-fatally strangled.
"Yet non-fatal strangulation is currently significantly under-charged across the UK and there is no distinct offence. This is a systemic issue and the law as it stands is not fit for purpose. A specific offence with appropriate sanctions would make the harm and dangers of non-fatal strangulation – and the appropriate action by law enforcement – crystal clear."
Dame Vera and Ms Jacobs added: "This proposed amendment would require the police and criminal justice agencies to treat cases with the gravity that they deserve. It is also international best practice. New Zealand, the US and Australia have all introduced specific offences for non-fatal strangulation.
"The law is currently failing victims and survivors and the penalties associated with strangulation do not reflect the significant harm inflicted. We and the wider sector call on the Government to back this amendment. If the Domestic Abuse Bill is to make a real difference and save lives, non-fatal strangulation must be made a distinct and serious crime."
Peers have also backed moves to make threatening to share so-called revenge porn illegal as part of the reforms to domestic abuse laws.
While the sharing of intimate images of another person without their consent is a crime, the threat to share such pictures is not in England and Wales.
An amendment is to be tabled at the next stage of the Bill, and former Conservative culture secretary Baroness Morgan of Cotes said research by the charity Refuge last year showed that 72 per cent of women accessing its services said that they had been subjected to technology-facilitated abuse.
She added: "It is undoubtedly one way in which a perpetrator of domestic abuse can exercise coercive control and continue that abuse, even after the perpetrator and victim have separated.
"That can be done by sharing, or threatening to share, intimate images taken during the relationship. Sharing intimate images was criminalised in the Criminal Justice and Courts Act 2015. Threats to share have been criminalised in Scotland and I hope that noble Lords will agree that in England and Wales it is now time to criminalise threats to share intimate images."
Further research by Refuge shows that one in 14 adults – more than 4.4 million – have been a victim of such threats.
Baroness Morgan said the Government has asked the Law Commission to conduct a broader review of image-based offences and harmful online communications.
"However, the harm caused by the threat of sharing intimate images is happening now," she added. "It is devastating for victims' mental health and wellbeing, and can of course lead to both the fear of physical violence and, as Refuge's research has shown, where technology is involved, physical abuse too.
"The College of Policing last year updated its guidance on revenge porn. It showed that the threat of sharing intimate images might be covered by a patchwork of various existing legislation and offences. As many victims have found, they are advised to wait until those images are shared before the police are able to take definitive action.
"The Bill provides an opportunity to tackle this form of abuse now. Such threats are used most often as a tool of coercion and domestic abuse, and that is why the Domestic Abuse Bill is the right place to make the change."
The Bill will create a new civil preventative order regime – the Domestic Abuse Protection Notice and Domestic Abuse Protection Order – which will prevent perpetrators from contacting their victims, as well as forcing them to take positive steps to change their behaviour, for example, seeking mental health support.
It will also require local authorities in England to support domestic abuse victims and their children in safe accommodation, and give priority to homeless victims.
And perpetrators of abuse will be prohibited from cross-examining their victims in person in courts in England and Wales.
The Bill will also enable domestic abuse offenders to be subject to polygraph testing as a condition of their licence following release from custody.
Home Office Minister of State Baroness Williams of Trafford said the Covid-19 pandemic has exacerbated the problem of domestic abuse as victims have been trapped in their home with their abuser.
She told the House of Lords: "Police recorded crime data shows that incidents of domestic abuse increased seven per cent in the period of April to June last year compared with the same period in 2019. These are horrendous statistics and they mask many individual personal tragedies, lives ruined and children traumatised, many of them for life.
"If there was ever an issue deserving of our attention and needing decisive action, this is it."