Combating slavery with innovation
Following the recent launch of a global initiative to examine how technology can be used to tackle modern slavery and human trafficking, a new app has been developed that allows offences to be reported "at the click of a button".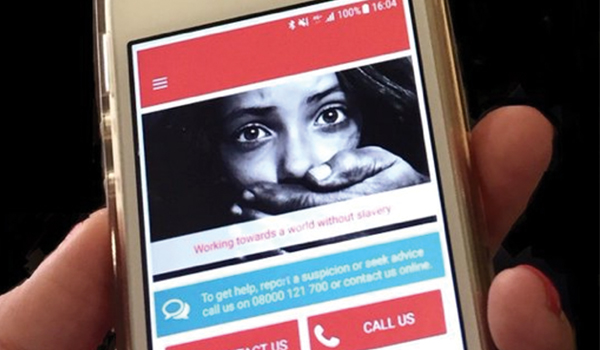 The app, launched by the anti-slavery charity Unseen – which runs the UK's modern slavery helpline – provides a simple guide to recognising and reporting the signs of modern slavery. 
It was developed for Unseen by the helpline's founding partner BT. The modern slavery helpline was set up in the autumn of 2016, and figures show that there were twice as many calls and online reports to it in the first half of this year – 3,300 compared with 1,500 in the same six months the previous year. 
The National Crime Agency estimates that there are tens of thousands of people being held in modern slavery in the UK, trapped in situations such as forced labour, domestic servitude or sex exploitation – but says the real number may be far higher. 
Andrew Wallis, chief executive officer of Unseen, said: "Traffickers are using ever-more sophisticated technology to control and exploit their victims. It is crucial that those of us combating modern slavery must innovate too. Whether that is technology for businesses to map their supply chains, or an app for everyone to have in their pocket at the nail bar, car wash or takeaway, this isn't just a gimmick, it's an essential part of the fight to eradicate slavery." 
The global initiative 'Tech Against Trafficking' brings together the technology sector, academics and NGOs (non-governmental organisations) and will "showcase how digital can be deployed to combat modern slavery". 
Craig Melson, digital programme manager at industry representative body techUK – which is part of Tech Against Trafficking – says there are more than 45 million people in some form of slavery, generating over $150 billion in illegal profits. 
"The term 'modern slavery' covers a plethora of crimes and abuses, ranging from withheld wages or documents, child labour in mining or natural resource exploitation to sex-trafficking, domestic service and car-washing," he added. "It is a truly global crime and the official UK estimate is 13,000 modern slavery victims, but the real number is likely to be in six figures.  
"So what role can technology play in stopping this? Technology is already revolutionising crime fighting with new data tools giving better insight, real-time intelligence and linking together disparate data sets. This helps reveal patterns and frees-up time for border agencies and officers."  
As hi-tech as this is, Mr Melson says "simpler technologies" – such as the app from Unseen – "have a role to play".  
"Apps have been developed to help with victim support and websites such as LaborVoices let people in vulnerable communities and large companies read first-hand worker experiences from different factories and workplaces," he explained. 
"Nascent technologies – such as artificial intelligence (AI) and virtual/augmented reality – have a role to play too. UK-based Provenance uses distributed ledger technology to document and verify processes in fishing fleets – a problem sector for modern slavery – and global procurement software provider SAP Ariba partnered with 'Made in a Free World', which uses cloud, AI and analytics software to scrutinise supply chains. 
"Elsewhere, data business Dun and Bradstreet runs the Human Trafficking Risk Index, allowing companies to analyse their own operations to reveal modern slavery risks. Worldwide there are many more brilliant examples. 
"Last year, a Wilton Park conference looked to see how the technology sector could work together to combat modern slavery and understand the problems that need to be overcome. 
"A year on from this event we were delighted to help launch the new initiative Tech Against Trafficking, which brings together tech firms, NGOs and governments to collaborate on new tools and getting the technology to those who need it. 
"The first project is underway and a long-term strategy will be published later in the year." 
Merseyside's deputy police and crime commissioner, Councillor Emily Spurrell, who is chair of Merseyside's recently relaunched Modern Slavery Network, has welcomed the creation of the Unseen app, which she says "provides a simple guide to recognising the signs of modern slavery, and makes reporting it to the national reporting helpline as easy as a click of a button". 
"We know of the tens of thousands of people who are believed to be trafficked in and out of the country every year, [and] only a small proportion of these cases are brought to the attention of the police and other agencies," said Ms Spurrell. 
"We need the public's help if we are to find and rescue more vulnerable people who are being trafficked by modern-day slavers. 
"Any new tool that encourages and enables members of the community to get information to the authorities is very welcome and this app makes it easier than ever for people to learn about the tell-tale warning signs that someone is being exploited and to report their concerns.