College chair confirmed
The College of Policing's interim chair has taken up the role on a permanent basis.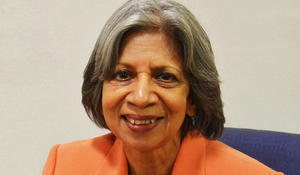 The College of Policing's interim chair has taken up the role on a permanent basis. Millie Banerjee has overseen the college since last November but was announced as its substantive chair on Wednesday (November 15). Ms Banerjee has previously served as chair of the British Transport Police (BTP) Authority, and has spent 30 years working in the telecommunications and satellite industries. She will work alongside Mike Cunningham, a HM Inspector of Constabulary who was appointed as the college's new chief executive officer last week. Ms Banerjee said: "I have spent many years in policing and it has been a privilege to witness the dedication and compassion of officers and staff to protect the public. "This is evident when I see that public approval for police has remained high despite officers and staff being faced with ever more complex crime, a reduced workforce and greater demand. "We are dedicated to providing access to the best knowledge and skills which sits behind the bravery, dedication and compassion shown by police on a daily basis. "We have ambitious plans ahead and I intend on working with people across policing to continue building a professional body that supports all officers and staff." Alongside chairing a range of organisations, Ms Banerjee served as High Sheriff of Greater London in 2012/13. During this time she supported a project to tackle the number of suicides on the rail network by placing mental health experts in custody suites to screen detainees. Home Secretary Amber Rudd said she has been impressed with the insight Ms Banerjee demonstrated from her time with the BTP Authority. She added: "I am very pleased Millie is taking on the role permanently and, along with newly appointed CEO Mike Cunningham, the College of Policing will have a strong leadership team to help drive reform and ensure the police workforce is flexible, capable and professional, able to face the future with confidence."