Collaboration with university on forensic services creates significant savings
A force has entered into a strategic partnership with a university to create a "ground-breaking" academy and attract the best forensic teams in the country.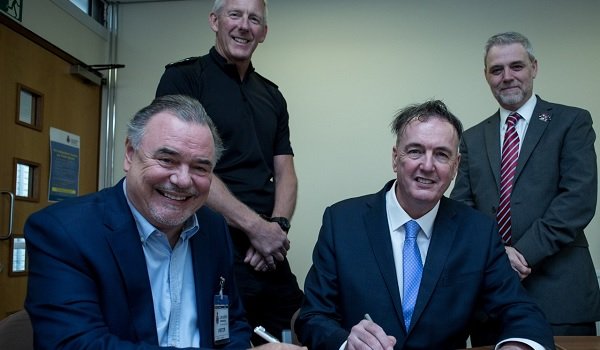 Lancashire Constabulary and the University of Central Lancashire (UCLan) have created purpose built police facilities where students and experts will research how to enhance the way forensic science services are provided in the county.
In the first collaboration of its kind within policing and forensic science, the facilities will include state of the art research laboratories, equipment, and teaching and training suites.
Students from UCLan will learn from forensic specialists about fingerprints, drug and body fluid analysis and laboratory competence at the academy, based at Lancashire Constabulary's headquarters in Hutton.
UCLan has invested millions of pounds into the project to provide the academy with new equipment, research and additional resources, which will allow the force to make significant savings that it would have had to find elsewhere.
Vice Chancellor of the university, Professor Mike Thomas, said the new equipment and research provided by UCLan will inform how Lancashire Constabulary tackles crime and protects vulnerable people.
Innovation Lead for Lancashire Constabulary, Rob Flanagan, said; "This is a new way of delivering savings within Lancashire Constabulary, while maintaining our same high standards of forensic service with the greatest skills and expertise we have to offer.
"Innovation allows us to focus on continuous improvement across all areas of the organisation and where we feel it is right, attract our strongest partners to work closer with us to protect people and deliver value for money services.
"The university has worked with us for many years in our research and evaluation. This new relationship brings us closer together during a time when policing and academia are driving up professional standards."
The academy will provide accredited learning for forensic scientists and crime scene investigators which Lancashire Constabulary hopes with bring the most talented students and forensic experts to the force.
Deputy Chief Constable Andy Rhodes said: "This is a ground-breaking initiative for Lancashire Constabulary and something we are really excited about.
"During a time when police forces are looking at ways to collaborate with other forces and regionalise forensic science services, we have opted to keep a clear focus on how we can improve our delivery here in Lancashire and joining up with UCLan provides us with some fantastic opportunities"
Lancashire police and crime commissioner Clive Grunshaw said: "This is a real opportunity for Lancashire to attract the best forensic teams in the country and to really develop a pioneering learning and development approach to our work.
"It will deliver real operational benefits and put Lancashire on the map in the field of forensic investigations."