Cleveland Police recruits its first wellbeing dogs
Cleveland Police has become the latest force recruit 'wellbeing dogs' to help boost the mental health of its officers and staff.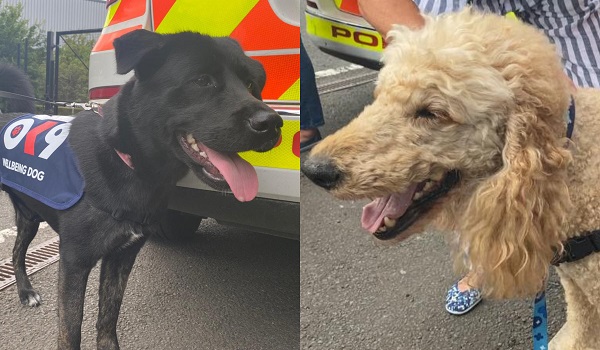 Bella, a one-year-old female Labrador and Husky cross, and Sol, a nine-year-old male Standard Poodle, are the force's first 'Oscar Kilo OK 9' wellbeing and trauma support dogs. They will work with the Wellbeing and Blue Light team to deliver a programme of wellbeing initiatives across the organisation.
Cleveland Police's Inspector Phil Spencer, Wellbeing and Blue Light wellbeing dogs coordinator, said: "It's proven that the presence of a wellbeing dog has a calming influence and through interaction with Bella and Sol, we are hoping to encourage officers and staff to engage and speak about mental health and wellbeing.
"Both dogs are great to work with and we are delighted to be welcoming them to the team."
Sergeant Garry Botterill, wellbeing and trauma support dog project lead for The National Police Wellbeing Service, said: "Police officers and staff do a demanding and sometimes dangerous job, and in many roles are frequently exposed to trauma. Over recent years, police forces around the country have recognised the value of dogs in helping officers and staff with their wellbeing.
"When a dog is introduced to the workplace, the atmosphere immediately changes, and people want to interact with the dog.
"These interactive sessions provide light relief from the rigors of the job and the dogs help get people talking and create expressions of genuine feeling just by being friendly and non-judgmental."