Civil Nuclear Police Federation lobby MPs over unfairness of rising retirement age
The Civil Nuclear Police Federation says it has had a series of very positive meetings with the Labour leader and cross-party MPs over the higher retirement age for Civil Nuclear Constabulary (CNC) officers.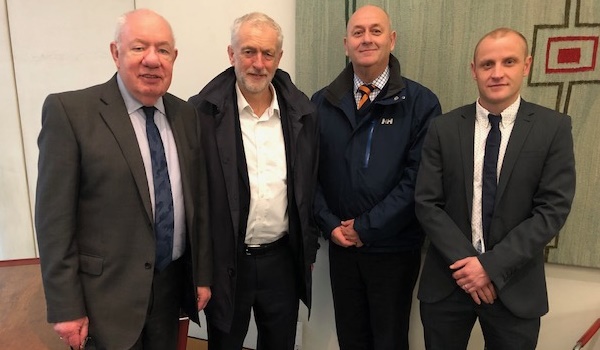 Home Office police officers currently have different retirement privileges compared with their CNC colleagues. 
Standards set by the College of Policing state that firearms officers should not serve beyond the age of 60, but CNC officers can be carrying as many as five different weapons and 30kg of equipment up to the age of 68. 
CNC Police Federation Chief Executive Nigel Dennis said this "is already eroding CNC Federation members' wellbeing and placing pressure on the recruitment and retention of officers". 
He said the series of meetings, "including the time with Labour Leader Jeremy Corbyn, particularly given that Brexit is so dominating at the moment, were extremely positive and they very much understand the situation we are in and what we need to achieve, from both a strategical policing level and from the welfare and wellbeing position of members". 
The Federation confirmed that its members are willing to help by putting money into their pension pot. 
"The next step in reality is that BEIS (Department for Business, Energy and Industrial strategy) has asked the constabulary to provide more financial detail and answer more additional questions, to the original Equality Impact Assessment," said Mr Dennis.  
"They've asked for more information with relation to recruitment and retention from the force. It's still the intention from the BEIS minister [Richard Harrington MP] that he wants a meeting to go ahead over this with himself, along with ourselves, the constabulary and officials from the Cabinet Office and the Treasury.
"It's BEIS officials' view that that we will get one opportunity to achieve our goal with the right people within Cabinet and Treasury to put our case forward." 
Mr Harrington has now written to the Chief Secretary of the Treasury, Elizabeth Truss, outlining the Federation's case, but figures to support it are needed.  
Mr Dennis added: "The CNC's Equality impact Assessment and the BEIS assessment largely match but it's a case now of putting some flesh on the bones before this meeting with everyone so that when it eventually happens, all the stars will be aligning.
"The last thing we want to do is let an officer who's in his late fifties, early sixties, be affected by this – it's an important investment for our members. It's an investment for their future.
"The question of our pension age is still very much on the agenda and it would be important to note we have cross-party support in this matter and we are working with our professional advisers to get this message across."