City Police commemorates 25th anniversary of Bishopsgate bombing
Never-seen-before images have been released to mark the 25th anniversary of a Provisional IRA bombing at the heart of London's Square Mile.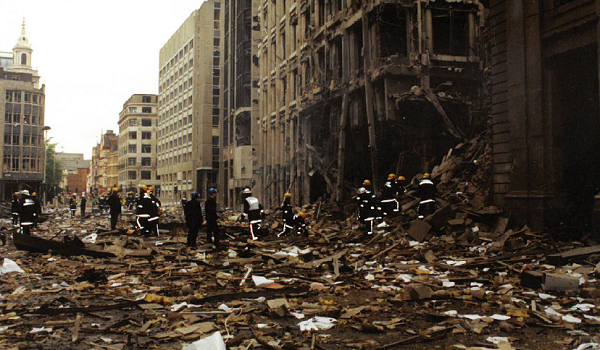 City of London Police has published a series of photos online detailing the devastation caused by the 1993 Bishopsgate bombing.
Forty-four people were injured and one killed when a bomb planted in a stolen truck exploded on April 24.
The blast caused an estimated £350 million of damage, destroying the nearby St Ethelburga's church and causing heavy damage to Liverpool Street Station.
A number of officers who were on the scene during the bombing's aftermath and still work for City of London Police have been recounting their experiences of an event that changed policing in the capital.
Police Constable Richard Fullbrook said: "You could see the smoke coming up from the vicinity of Bishopsgate and the first thing that struck you was the taller buildings. The damage to, what was then, Natwest Tower, and places like that. It was total devastation.
"There was this huge plume of water coming out everywhere and the St Ethelburga's Church was just rubble.
"Even now after all these years, it's something you do remember quite well because I don't think anyone had ever seen devastation like it before."
At around 9am on April 24, 1993, two Provisional IRA members drove a stolen truck containing the bomb onto Bishopgate in the Square Mile and parked it outside a bank.
Incidents like the Bishopsgate Bomb changed the face of policing and how we go about our work.
Telephone warnings were sent from a phonebox in Northern Ireland and officers began evacuating the area.
The bomb detonated at 10.27am, raising a mushroom cloud that could be seen up to much of London.
In the aftermath, City of London Police implemented a 'ring of steel', closing most routes into the city and stationing officers on checkpoints 24 hours a day.
CCTV cameras were placed at each entry point and pursuit vehicles were stationed nearby to follow and suspicious drivers.
These plain-clothes 'spotters' were intended to both detect and deter potential terrorists – a tactic not dissimilar to the modern-day 'Project Servator' developed by City of London Police.
Detective Superintendent Dermont Robinson, head of counter-terrorism for the force, said: "It's quite east to forget some of the impactful events of previous decades following the number of atrocities recently, but incidents like the Bishopsgate Bomb changed the face of policing and how we go about our work.
"It's remarkable to see how we've come full-circle with our tactics and how decisions made in the 90s are reflected in some of our most successful initiatives today.
"Project Servator is an excellent example of how we still look to deter terrorists from entering the City by using both plain-clothed officers skilled in behaviour-detection techniques and a very large and visible police presence."