City of London Police marks ten years of fighting insurance fraud
City of London Police's Insurance Fraud Enforcement Department (IFED) is celebrating ten years since it was launched amid "an epidemic of insurance fraud".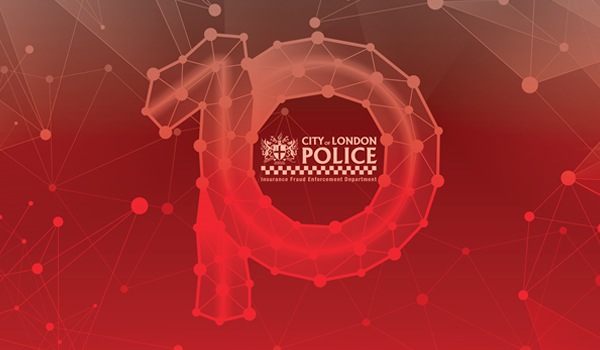 In its first year alone, the IFED received 477 referrals from 49 different insurers, made 260 arrests, secured 12 convictions and investigated more than £11 million of suspected insurance fraud – figures that "quickly justified" the need for a dedicated unit, said the force.
A decade on, the team of detectives, financial investigators and support staff have carried out 2,930 arrests and voluntary interviews, while investigating £350 million worth of fraud, including a policyholder "repeatedly freezing and defrosting their dead pet to make bogus claims".
The unit has secured 584 court convictions, 1,418 judicial outcomes and 310 years of prison time for fraudsters.
City of London Police said: "Back in 2012, City of London Police, in its role as the national lead force for fraud, responded to growing concerns around an epidemic of insurance fraud.
"A 'perfect storm' of challenges faced both the police service and the insurance industry: a difficult economic climate saw drastic cuts to funding for specialist units, while the UK's insurance industry was suffering its biggest ever losses through fraud, estimated to be at more than £2 billion.
"The new unit of detectives and financial investigators launched in January 2012, which would be dedicated to investigating insurance fraud referred to policing by both insurance companies and the public."
Assistant Commissioner Pete O'Doherty said throughout his career at City of London Police, he had eagerly watched the IFED "grow into the well-established, well-respected unit it is today".
He added: "Arrest-by-arrest, IFED reminds the public that insurance fraud is a criminal offence, and that this type of fraud will not be tolerated. By doing so, the unit protects us from all from a number of risks: reckless 'crash for cash' criminals putting innocent drivers in danger; organised crime groups using insurance fraud to fund further illicit activity; and also the raised premiums honest policyholders face every year to cover losses through fraud.
"IFED has demonstrated its resilience since the Covid-19 pandemic hit. Despite significant disruptions to operational activity, there was a 51 per cent increase in the number of arrests made by IFED from 2020 to 2021, and a 247 per cent increase in comparison to 2019. The team truly is a force to be reckoned with and I look forward to seeing what the next decade brings for IFED."
T/Detective Chief Inspector Tom Hill, acting head of the IFED, said: "When I started as detective constable with the newly-established unit back in 2012, I never could have imagined what IFED would achieve in its first ten years. We have gone from strength-to-strength, bringing down multiple criminal networks while also changing the perception that opportunistic fraud is acceptable.
"From a policyholder repeatedly freezing and defrosting their dead pet to make bogus claims, to a man who impersonated his female partner to fake his own death for a £1 million pay out, we really have seen it all. The lengths fraudsters will go to for financial gain are often unbelievable, but the consequences of committing insurance fraud are far from fiction.
"With around 300 years of jail time, 600 convictions and 1,400 judicial outcomes under our belt, we have proven that criminals will pay the price for exploiting the system."
The IFED secured its first conviction just three months after launching in a case involving a bogus whiplash claim.
A man from Leeds called his insurer to report an accident, claiming that he reversed into a lamppost while he had passengers in his vehicle and that they had suffered whiplash as a result. Thinking that the phone call had finished, the fraudster proceeded to loudly boast to friends how his bogus claim was going to make him 'a rich man'. Unfortunately for him, the call was still being recorded and the tape was soon handed over to IFED. After hearing his own words played back to him, the man had little option but to reverse his not guilty plea.
A year later, the unit tackled what was believed to be the UK's biggest fake car insurance scam, which saw 600 drivers lose around £550,000 in just 11 months by buying worthless policies. Two 'ghost brokers' were jailed for a combined total of four years as a result of the investigation.