City of London Police approves use of spit guards on capital's streets
Operational officers with the City of London Police are to begin using spit guards and leg restraints on the streets of the capital.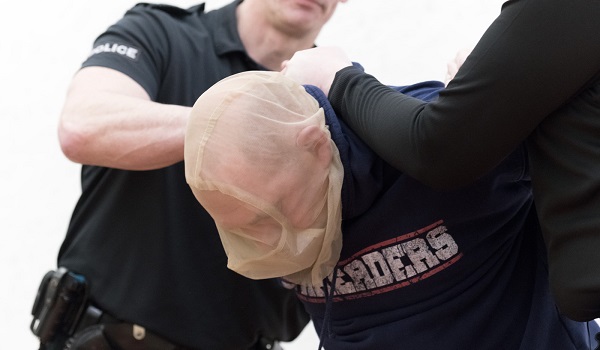 It follows a successful campaign for their introduction led by the City of London Police Federation. 
The decision is certain to increase pressure on Metropolitan Police Service (MPS) Commissioner Cressida Dick to approve the use of spit guards by her own officers. Spit guards are already used by British Transport Police in London, leaving officers from the MPS as the only ones in the capital not afforded their protection while on operational duty.  
Chief Superintendent Glenn Maleary of City of London Police said: "The safety and security of our police officers is a priority and we firmly believe that officers should have the necessary and appropriate equipment to do their jobs. We have closely monitored the feedback of our officers in conjunction with the City of London Police Federation and have as a result authorised the use of spit guards and leg restraints for all operational officers.  
"The introduction of these approved products will only be completed when officers have undertaken additional training and an operating procedure is agreed. Any use of these items will be monitored and reviewed accordingly." 
The decision by City of London Police prompted the Metropolitan Police Federation to repeat calls for their introduction. 
"We all police the same great city and face the same threats. Our members must be given spit guards," said a spokesperson. 
At present, MPS officers can only use spit guards inside custody suites.  
At a meeting of the London Assembly earlier this month, Ms Dick said that, following a Federation survey showing 95 per cent of officers were in favour of spit guards, she was reviewing her position on the matter and would be meeting with Federation representatives "in a matter of weeks".  
Despite having been spat at herself in the past and accepting the overwhelming demand for spit guards, Ms Dick admitted she had a number of reservations about their use. 
"Spit guards will only be used when somebody has already spat or bitten, and we don't have any data at the moment about the number of times they might be a protective measure because we haven't got that prevalence," she told the Assembly. "So, I am now doing some more work on that and I'm also talking to my colleagues up and down the country. I absolutely accept that this is something my officers feel strongly about." 
In response to a question from Assembly member Susan Hall, Ms Dick denied she was concerned about the "optics" – the potential impact of news and social media images of individuals with hoods over their heads. 
"What I'm concerned about is whether the use thereof is going to keep my officers safer or not," she said.  
Ms Dick said one key issue she needed to address was the concern that in difficult, violent situations, officers could end up making matters work during their struggles to fit a spit guard. She also noted that additional monitoring then becomes necessary to ensure the welfare of individuals fitted with hoods.  
Ms Dick added that another of her concerns was that the use of such equipment on the streets of the capital might provoke members of the public to intervene in arrests. 
"London is different," she said. "It's not what someone might think, it is what they might think when they look and then what they might do to make that situation less safe for the officers." 
However, Chief Supt Maleary said they expected spit guards to make difficult arrests less challenging. 
"The purpose of issuing limb restraints and guards against spitting is so that our officers are able to apply the minimum force when having to protect themselves during the detention of violent suspects," he added.