Chief constable's contract extended to lead 'biggest security challenges force has ever faced'
The West Midlands police and crime commissioner (PCC) has extended the chief constable's contract to ensure leadership continuity beyond the 2022 Commonwealth Games.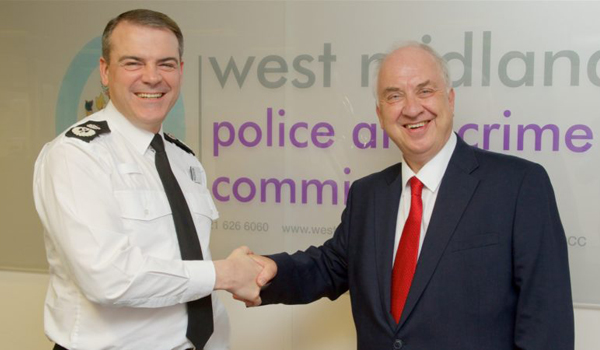 Chief Constable Dave Thompson is now expected to lead the force until January 2023 after his contract, which was due to expire next year, was extended by two years.
PCC David Jamieson announced his decision at the West Midlands Strategic Policing and Crime Board on Tuesday (February 18).
Mr Thompson's contract was not due to expire until next January but Mr Jamieson said he wanted to ensure he retained the chief constable's command experience during what he described as "among the biggest security challenges ever faced by West Midlands Police" over the next two years – the Commonwealth Games and Coventry City of Culture in 2021.
Mr Thompson was the main policing operations commander for the 2002 Commonwealth Games at the City of Manchester Stadium, including the opening and closing ceremonies.
Mr Jamieson said: "The last few years have been incredibly challenging for West Midlands Police; our budget has shrunk at the same time as the demands we face are going through the roof. Dave Thompson has faced these challenges and managed them well.
"The chief constable is committed to delivering my plan of putting more officers into neighbourhood policing to help us tackle crime head-on.
"Dave Thompson has been a tough chief constable for tough times. He is upfront about the challenges the force faces, has always given me good advice and never been afraid to speak honestly to government.
"I wish Dave Thompson well over the next three years."
Mr Thompson said: "It has been my privilege to serve the people of the diverse and exciting West Midlands as chief constable and am delighted that I will continue do so at an exciting time for the West Midlands with Coventry City of Culture next year and Birmingham hosting the Commonwealth Games in 2022 putting the region on the international stage.
"I am looking forward to using the extra officers the force will be see over the next few years to drive down crime and make the public even safer."
Mr Thompson's policing career began with Greater Manchester Police in 1990, and he rose through the ranks until being appointed assistant chief constable with the force in 2007.
He joined West Midlands Police in 2010 as deputy chief constable and led its WMP2020 change programme. He succeeded Chris Sims as its chief constable in 2016.
Mr Thompson is the National Police Chiefs' Council lead for finance and has also led nationally on gun crime and gangs.
He was awarded the Queen's Policing Medal in 2014.