Chief constable: 'We won't keep cutting crime if PCs can't afford to be cops'
The chief constable of Essex Police has warned "we won't keep cutting crime if PCs can't afford to be cops".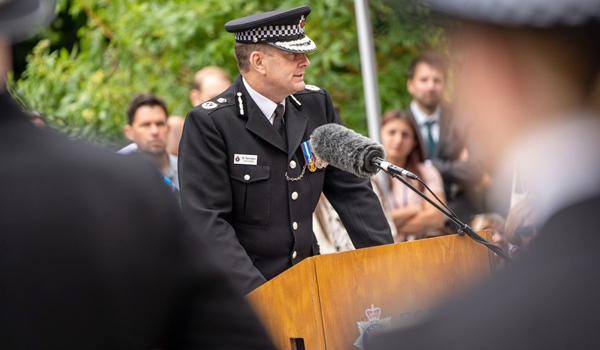 BJ Harrington QPM said colleagues have reported promising police constables were quitting despite the fact that they have great future prospects for promotion to sergeant and beyond.
Officers were leaving to become taxi drivers or train drivers, or are leaving the UK altogether for better prospects abroad, said Mr Harrington.
He was speaking after a prolific burglar was jailed for seven years following a "relentless investigation" by the Essex Police Criminal Investigation Department.
Shane Smith, 31 of Little Dunmow, appeared at Chelmsford Crown Court on Monday (July 10) after pleading guilty to 13 burglary-related offences between August last year and this March.
Smith had been connected to the string of offences following advanced forensic work carried out by specialist officers.
The conviction comes as crime continues to fall in Essex, however, Mr Harrington has warned once again that the good work of previous years is at risk if experienced officers and police staff "can't afford to stay in the profession due to the spiralling cost of living".
"At Essex Police, we don't just go to home burglaries after they have happened. We catch the burglars and we stop them doing it again," said Mr Harrington.
"We're delivering justice for all the people whose properties were broken into and peace of mind for everyone who lives in our villages and our cities.
"I know we'll be able to catch even more criminals if I'm able to keep paying a fair wage to skilled investigators who get great results.
"I'm speaking up because they deserve a fair deal for the work they do – all I ask is that the force is given the money it needs to make that happen."
It is understood that Chancellor Jeremy Hunt has warned that he will not borrow more money to fund pay rises for police officers, teachers, nurses and other public sector workers, arguing it would fuel consumer price inflation, currently running at 8.7 per cent.
He has urged ministers to find more than £2 billion of savings to fund six per cent public sector pay rises this year, but some ministers have warned that cuts would damage already-stretched public services
Prime Minister Rishi Sunak has said that "no final decision has been made" on pay rises for public sector workers.
Independent pay review bodies have recommended public sector awards of around six per cent for the 2023/24 pay round. The Prime Minister and Mr Hunt are expected to discuss the Government's response to the pay review bodies later this week.
The Police Federation of England Wales (PFEW) says the Government seems to be setting the stage to make an example out of officers by asking them to take "one for the team" as part of a desperate counter-inflation move.
In March this year, independent research by a non-partisan organisation, Social Market Foundation (SMF), found that real terms police pay has fallen almost 20 per cent behind inflation between 2000 and 2022.
PFEW national chair Steve Hartshorn says the Government "must realise that by ignoring police officers, it is ignoring the safety of members of the public".
"Police officers also have bills and rent to pay," he said. "The Government cannot maintain the view that officers will somehow continue to manage putting their lives at risk every day when they cannot afford to live.
"To mirror the words of the Government, police officer pay must be 'fair', at the moment it is far from that."
Mr Hartshorn said there is little doubt that, for decades, police officers in England and Wales have been the "poor relation of the emergency services for successive governments".
"More recently, it was in 2021 when the Government subjected police officers to a pay freeze making them the only group of emergency service workers to not receive a pay rise," he said.
"This is at the same time as requiring police officers to enforce government-imposed restrictions on members of the public while they are also facing increasing levels of assaults.
"The suggestion [in media reports] of a derisory six per cent in the current climate, when independent research has shown that officers have suffered an almost 20 per cent pay cut over the last decade, is jarring."
According to the latest findings in the Police Family Finance Index from Metfriendly, the cost of living is hitting police officers' pockets hard, with almost 90 per cent saying they have financial concerns and more than a quarter missing meals due to lack of money, .
In the survey of more than 3,000 serving police officers and support staff, it found that on all indicators around financial wellbeing, the police family is in a worse position than it was six months ago.
'Financial concerns' have increased from 74 per cent to 86 per cent in just six months; 'missing meals' – a key indicator of household poverty – has increased to 27 per cent from 22 per cent.
Nearly one in ten (eight per cent) say they have used a food bank to support themselves and their family, according to the police service financial experts.
To help make ends meet, 60 per cent of officers were doing more overtime, 26 per cent have a second job, 40 per cent are selling their possessions and 37 per cent are thinking about leaving the police service.
Commenting on the findings published last month, Metropolitan Police Service Commissioner Sir Mark Rowley said: "It cannot be right that police officers, the people who society turn to when they are most in need, are themselves turning to food banks, getting into unsustainable debt and choosing not to eat so they can pay their bills.
"I have called for a pay rise for police officers that is in line with inflation. I urge the Government to accept any recommendation from the independent pay review body in full and without delay.
"Frontline officers have seen their salaries fall by around 17 per cent in real terms over a decade.
"This report lays bare the very real impact that is having in the context of the cost of living crisis and the urgent need to address it."