Chief Constable Sir David Thompson awarded honorary doctorate
Chief Constable Sir David Thompson has been awarded an honorary doctorate from Staffordshire University in recognition of his exceptional distinction in the field of policing.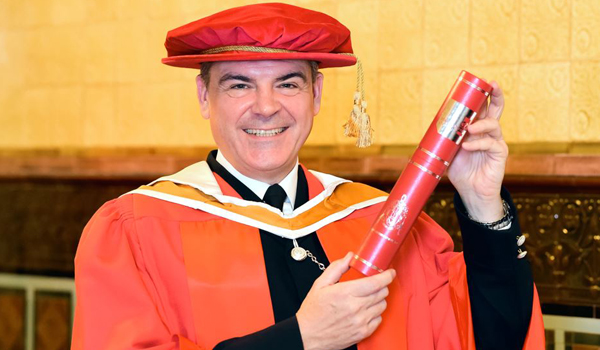 The West Midlands Police chief constable was "delighted" to be handed the Award of Honorary Doctor of Staffordshire University at a special ceremony held on Tuesday (November 15).
He is one of several chief constables across the region who acted as signatories in 2019 for a six-year deal with Staffordshire University to deliver the Policing Education Qualifications Framework (PEQF) – providing three pathways into policing for new recruits.
More than 2,000 police recruits have benefitted through the PEQF across the four forces that make up the West Midlands region.
Sir David, who is retiring next month, said: "As I enter the final weeks of my policing career, I'm enormously proud and privileged to receive this honorary doctorate from Staffordshire University.
"The university is an outstanding organisation that has played a key role in training over 2,000 officers from the wider West Midlands region over the past few years, making this recognition all the more special.
"As I leave policing after a career of 32 years, I remain strongly of the view that it is one of the most important and transformative institutions in the society of Britain.
"I hope and believe I have made a difference to people in our communities in all the roles I have held throughout my career.
"I remind all those who will continue in policing after I am gone of their unique power to do the same."