Chief Constable James Vaughan to retire this autumn
The chief constable of Dorset Police has announced he is to step down this autumn.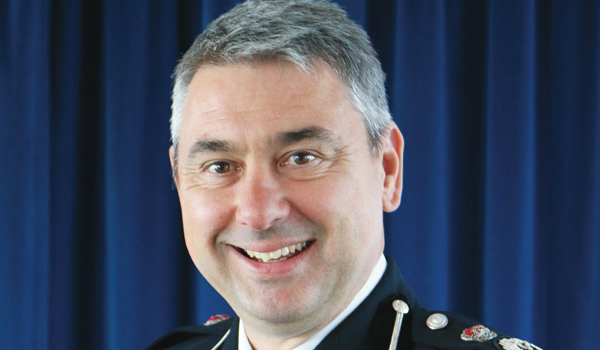 James Vaughan said he began to "seriously consider" retirement this time last year but delayed his decision due to the Covid-19 pandemic, during which he chaired the Local Resilience Forum to coordinate the joint response to the emergency.
"Moving forward into this year I chose to delay any announcements on retirement to ensure they did not distract candidates and the electorate in the police and crime commissioner (PCC) elections, which were held in May," said Mr Vaughan.
"I will take retirement in the autumn at the end of what is predicted to be a very busy summer. This will allow me to help our new PCC David Sidwick, to develop a new Police and Crime Plan to take the force through to 2024/25, set a new budget for next year and select a new chief constable.
"I wish to offer David Sidwick my heartfelt congratulations and all the very best for the next few years. He had a solid win with a well-informed campaign and I am very confident he will bring new leadership, insight and inspiration to the force."
Mr Vaughan began his career in Wiltshire Police in 1992, working in various uniform and detective roles before moving up through the ranks to work in major, serious and organised crime, citizen-focused policing, partnerships and safer neighbourhoods and later he became the head of CID.
He successfully completed the Strategic Command Course in 2011 and joined Dorset Police as assistant chief constable in May 2012.
After his promotion to deputy chief constable in 2013, he led on strategic change, planning, performance, professional standards, people and community focus, and media and communication. He also led various regional collaboration programmes, including the forensic service collaboration and the Strategic Alliance with Devon and Cornwall Police.
In February 2017 he was appointed deputy chief constable (chief operating officer) for the Dorset, Devon and Cornwall Strategic Alliance, before his appointment as chief constable for Dorset in April 2018.
He also leads nationally for forensic science for the National Police Chiefs' Council and has delivered significant strategic change in forensic delivery through the national Transforming Forensics programme. He was awarded the Queen's Police Medal in the 2018 New Year's Honours.
Mr Vaughan said: "I cannot emphasise enough how very proud I am of the officers, police staff and volunteers who give so much every day to serve and protect the public. I would like to take this opportunity to thank them for the dedication, commitment and professionalism they have shown, especially during the last 14 months of the Covid-19 pandemic. It has not been an easy time for anyone, but they have continued to do all they can to keep people safe.
"Dorset Police is an exceptional organisation providing exceptional services to the public. During recent years Dorset Police has achieved a 'Good' rating in all ten areas inspected by Her Majesty's Inspectorate of Constabulary and Fire and Rescue Services and this is something I am immensely proud of.
"I set our organisation the vision of becoming a police force that provides an outstanding service to the people of Dorset; particularly the most vulnerable and I have every belief that this is achievable over the coming years.
"It has been an extraordinary honour and a privilege to lead Dorset Police in a variety of chief officer roles over the last nine years. This is a period in my professional life that I will cherish. Without doubt, the last year has proved to me that this county is made up of strong and caring communities and I am proud to call it my home.
"I will be continuing with a range of volunteering roles that I enjoy, but hope to find more time for my passions surrounding natural history, travel and sailing. Finally, I would like to thank my wonderful family for supporting me on this fantastic journey and I look forward to the new adventures that await."
Mr Sidwick said: "I would like to thank James on behalf of Dorset's communities for his unwavering commitment to keeping people safe.
"Since joining Dorset Police as assistant chief constable in 2012, James has shown exceptional leadership during a very challenging period – perhaps best illustrated by his stewardship during the unprecedented public health crisis of the last year or so. He leaves a tremendous legacy and the force is well equipped to meet future demands and tests. Dorset Police is in a strong position, with higher officer numbers, and the foundations to make the county the safest in the UK.
"Over the last three years, I have had the pleasure of getting to know James and I have been conscious for some time that he would likely retire this year. I wish him all the very best when he leaves later this summer. Appointing a new chief constable is one the most important responsibilities for a police and crime commissioner. I will work to ensure that the best possible candidate is appointed so that Dorset's communities receive the policing that they expect and deserve."