Charity calls for peer pressure as seven forces still to 'help make cycling safer'
Forces are being urged to join their colleagues and protect cyclists through a close pass training programme.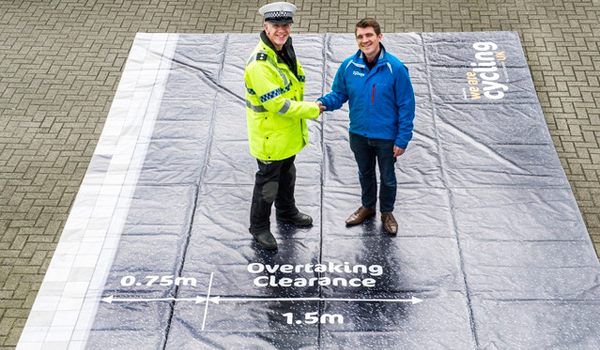 Forces are being urged to join their colleagues and protect cyclists through a close pass training programme. Cycling UK has offered all UK forces a free close pass mat to help them educate careless drivers, but seven have not yet responded. Four have refused outright – although one force may yet change its mind, the charity claims. Campaign coordinator Sam Jones is now appealing to the remaining forces to get on board and "help make cycling safer". He said: "There are still several forces we're trying to reach and get a definitive answer – so in mat delivery terms our work is not done. "We're hoping peer pressure from the 34 forces who are running operations across the summer will persuade the rest to reach out and start taking close passes seriously too." The close pass scheme began at West Midlands Police which was using a mat to teach drivers the safe distance they should leave cyclists when overtaking. Cycling UK launched a Kickstarter campaign to fund more mats for forces across the country, raising more than £14,500. Most UK forces have accepted the offer and 31 have already been their mats, with Suffolk, Norfolk and Cumbria constabularies due to receive theirs later this week. However, forces in Bedfordshire, Cambridgeshire, Hertfordshire, Humberside, Northumbria, South Yorkshire and Staffordshire have not responded. Police Scotland also has only one mat for the entire country, so Cycling UK has started offering them to local road safety partnerships. Both the Metropolitan Police Service and City of London Police refused a mat as they have their own close pass policies in place. Lancashire Constabulary also has its own mat for operations and did not require another. Derbyshire Constabulary initially declined to join the scheme – but Cycling UK hopes it will reverse its decision after seeing "one of the worst" close pass videos. Video evidence submitted to the force showed a driver cutting in front of cyclist Luke Smith, missing him by just centimetres. Officers had told Cycling UK that Derbyshire did not have a close pass problem and they would not investigate due to the lack of other witnesses, but the force has since charged with the driver. Mr Jones said it could be "changing its tune" on joining the programme. He added: "Overall, the combination of both police and public support for this initiative has been quite incredible. "It's always easy to slam forces for not taking cycling concerns seriously, but I've been speaking with officers who are very much on side, see the need for such work, and are doing their utmost to convince their seniors of the need for close pass ops under very straitened budgetary circumstances. "We might wish it otherwise, but a change of culture doesn't happen overnight. "Still, we're seeing the green shoots of change, and witnessing a growing sense of community among the police in the need to tackle close passing, as well as taking wider cycling safety concerns seriously."