Chancellor announces extra ring-fenced funding for knife crime
The Chancellor of the Exchequer is to allocate an additional £100 million for police forces in areas most affected by recent increases in violence.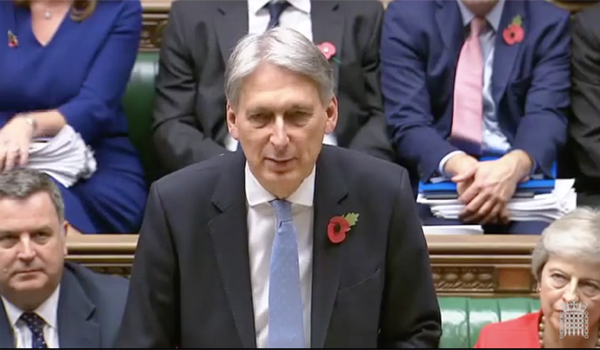 Philip Hammond said the money would be spent on violence reduction units and police overtime. 
Making his Spring Statement in the House of Commons on Wednesday (March 13), Mr Hammond said the money will go to the areas that account for 70 per cent on knife crime.  
The money will be made available immediately and will last one year. Eighty per cent of the additional funds will come from the Treasury while the Home Office will provide 20 per cent from "reprioritisation". 
The Home Secretary Sajid Javid had been pressurising the Treasury for extra money to surge police activity in high crime areas, although it is reported that he had originally asked for £300 million.  
The chair of the National Police Chiefs' Council, Chief Constable Sara Thornton, welcomed the extra funding and said: "Bringing violence down is a police priority. We know what works to bring down violence and this additional funding will help us to increase the number of officers available to carry out targeted patrols in crime hotspots, increase our use of stop and search and disrupt gangs and crime groups." 
She added that there should be a holistic approach with action from the government, education, health, social services, and communities themselves. 
The forces that  will receive funding are: The Metropolitan Police Service; West Midlands Police; Greater Manchester Police; Merseyside Police; South Yorkshire Police; West Yorkshire Police; and South Wales Police. 
Shadow Chancellor John McDonnell criticised the amount of additional funding compared with the £2.7 billion cuts to policing since 2010. It "did not make up for the human and economic costs of these cuts", he said. 
The Chancellor described growing wages and stronger tax receipts as a sign the economy has a "solid foundation" upon which to build Britain's future with net borrowing expected to be eliminated during the next parliament. 
However, Mr McDonnell said the Chancellor has passed on the government debt to taxpayers: "He has not eliminated the deficit. He has simply shifted it onto the shoulders of headteachers, NHS managers, local councillors, police commissioners and worst of all, onto the backs of many of the poorest in our society.  
"The consequences are stark. Infant mortality has increased. Life expectancy has reduced. Our communities are less safe." 
Labour MP and Shadow Policing Minister Louise Haigh tweeted: "Extra money is welcome to bear down on knife crime but the Tories have created this crisis in policing.  
"Our overstretched officers are already at breaking point, owed thousands of rest days and leave." 
Association of Police & Crime Commissioners Chair and Serious Violence Lead, Mark Burns-Williamson PCC said: "Any additional funding to tackle knife and violent crime is to be welcomed. We have long advocated a whole system approach and the proposed investment in new violent crime reduction units is an important step forward. We will be working closely with the Home Office and Chief Constables to help coordinate how this funding is to be spent productively. 
"In the meantime, in order to protect our communities, we will continue to build a compelling case for increases in central police funding to increase capacity and allow for further investment in crime prevention, in the forthcoming comprehensive spending review. This will be crucial in sustaining a long-term approach to reducing knife and violent crime generally." 
Policing Minister Nick Hurd tweeted "very welcome announcement by @PhilipHammondUK that the fight against serious violence is going to receive an additional cash boost of £100m". 
London Assembly Police & Crime Committee Chair Steve O'Connell welcomed the announcement and said the committee will wait to see how the extra money might bolster the Metropolitan Police Service's capacity to fight the rise in knife crime in London. 
"We are pleased the Chancellor has responded to our calls for extra funds," he said. 
"We have argued that the focus must be on prevention as well as enforcement. That kind of painstaking work needs substantial investment, of time and money. 
"The Chancellor's announcement is an acknowledgement that causes can be complex and answers do not come easily – but there is concerted and urgent resolve, at all levels, to rid our streets of this scourge." 
If the UK leaves the EU with a Brexit deal then the Government will conduct a Spending Review to conclude in the autumn alongside the Chancellor's Budget Statement.  
This will set departmental spending, including three–year budgets for police resource spending.  
The Treasury confirmed that "the Spending Review will also have a renewed focus on the outcomes achieved for the money invested – supporting a high-growth economy with public services that work for everyone."