Centenarian former PC tells current officers to 'cherish every moment'
One of the oldest living former police officers in the country marked his 100th birthday by urging those following in his footsteps to "cherish every moment".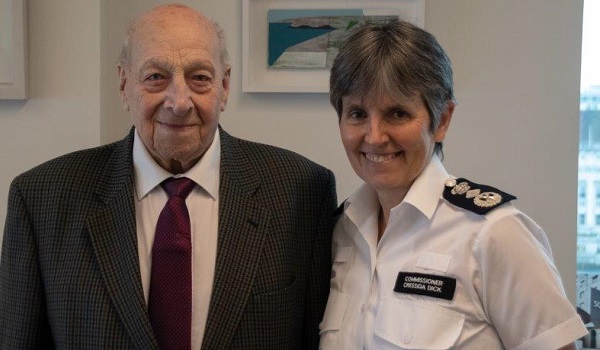 Retired Metropolitan Police Service (MPS) Police Constable Reginald 'Reg' Dunn joined the service on January 23, 1950. Thanks to the National Association of Retired Police Officers (NARPO), his birthday celebrations included a meeting with MPS Commissioner Cressida Dick and a visit to the famed Crime Museum.
Originally from Sunderland, Mr Dunn had originally wanted to join his local force but was half an inch too short.
Discovering that he was half an inch taller than the lower limit for the MPS, he and his family moved to London where he served as a constable and then area car driver based at Carter Street police station in Walworth.
He said: "Policing has changed enormously since I joined the Met back in 1950 but I would still be proud to serve today and if I could offer any advice to current officers, it would be to cherish every moment and remember colleagues become friends for life."
Dame Cressida said: "It's wonderful to be able to congratulate Reg Dunn on behalf of all the officers and staff of the MPS on this special occasion.
"This is a small recognition which I hope will serve as a reminder for the service Reg gave and bring back many wonderful memories. The policing career may have changed since Reg started his career, however we must never forget to recognise the history, principles and people like Reg, which have been our foundations and have made British policing so admired worldwide."