Cannabis study: Samples show huge rise in highly psychoactive strains
Nearly all cannabis seized by police on Britain's streets is 'super-strength' that could be fuelling the rise in mental health problems, scientists claim.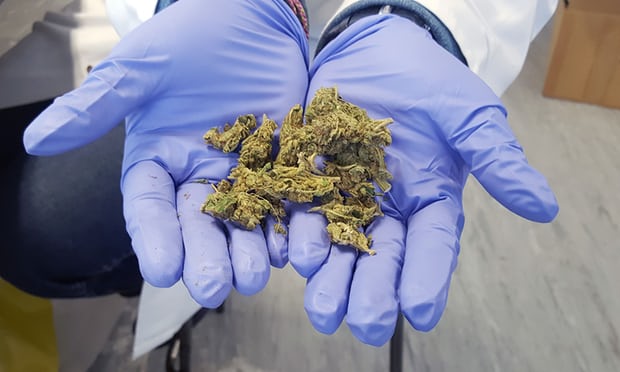 Researchers at GW Pharmaceuticals, which makes medicines derived from cannabis, and King's College London tested almost 1,000 force seizures from Kent, Derbyshire, Merseyside, Sussex and the Metropolitan Police Service in 2016 and found 94 per cent were of a dangerously high potency.
The research, which could have "concerning implications for public health", is the first comprehensive, wide-ranging survey of cannabis strength published in Britain for almost ten years.
The last comparable study in 2005 showed just 51 per cent of cannabis sold on the street was sinsemilla, also known as skunk. A wider one carried out by the Home Office in 2008 found they accounted for 85 per cent.
The research comes as the spotlight falls on renewed efforts to legalise cannabis for medical use.
Newport MP Paul Flynn's bid to allow cancer and multiple sclerosis sufferers to use the drug was thwarted in the House of Commons last week .
His Private Member's Bill would have paved the way for six-year-old MS sufferer Alfie Dingley, and others like him, to legally receive the medicinal cannabis they urgently need.
But on Thursday (March 1) there seemed a glimmer of hope of a Government U-turn when the Home Office was reported to be considering permitting a three-month medical trial to treat Alfie – with Policing and the Fire Services Minister Nick Hurd meeting the family and agreeing to "explore every option".
Meanwhile, Dr Marta Di Forti, Medical Research Council clinician scientist at King's College warned that the powerful drug placed Britain's 2.1 million cannabis users at risk of schizophrenia, bipolar disorder, depression, psychosis, delusions and hallucinations.
"The increase of high-potency cannabis on the streets poses a significant hazard to users' mental health, and reduces their ability to choose more benign types,' she said.
"It is of concern that 94 per cent of seized cannabis is now of skunk type as this potentially could increase the number of people using it and consequently the number of people experiencing harm.
"Regular users of high-potency cannabis carry the highest risk for psychotic disorders, compared to those who have never used cannabis."
The researchers also found that in normal cannabis resin, the average concentration of tetrahydrocannabinol (THC) – the main psychoactive component – had risen by 50 per cent since 2005, from four per cent to six per cent.
In contrast, the ratio of antipsychotic cannabidiol (CBD), which helps mitigate the drug's psychoactive effects, had fallen dramatically.
Skunk has around 14 per cent THC and is more dangerous because it contains very small amount of CBD.
In 2015 Kings College showed that in south London, 24 per cent of new cases of psychosis could be attributed to skunk use. Researchers now fear that the countrywide problem could be partly responsible for the growing number of mental health issues in Britain.
Dr Di Forti added: "More attention, effort and funding should be given to public education on the different types of street cannabis and their potential hazards.
"Public education is the most powerful tool to succeed in primary prevention, as the work done on tobacco use has proven."
Official survey findings for England and Wales show cannabis is the most commonly used drug, with 6.6 per cent of adults aged 16 to 59, or around 2.2 million people, having used it in the last year in 2016/17.
This was a similar percentage to 2015/16, but over the longer-term cannabis use has been falling. The percentage of people having taken the drug in the previous 12 months was 8.2 per cent in 2006/07, and 9.4 per cent in 1996.
Separate data shows a sharp fall in the number of possession of cannabis offences recorded by police. In the 12 months to September, forces logged 80,618 such crimes, down by almost a tenth on the previous year, while the yearly tally was over 100,000 for a decade from April 2005.
The reform debate for using cannabis in a medical capacity reached fever pitch in the Commons on February 23.
Newport MP Paul Flynn was visibly rocked when he found Labour colleagues "deliberately" filibuster his attempt to get his Private Member's Bill through Parliament.
Patients and drug policy advocates had descended on Westminster for the planned second reading of a Bill to allow sick Britons to use cannabis medicinally.
Pleas from Mr Flynn to his Commons colleagues to speed other business along to allow the cannabis Bill to be heard went unheeded
Instead, MPs went on extended soliloquies of 15 minutes or longer on parimanetary business, including protections of eider ducks. The delaying tactics included Labour Ipswich MP Sandy Martin speaking for 45 minutes on the voting rights of British expatriates.
July 6 is now the earliest the medical cannabis question can be heard again in Parliament.
It left the 83-year-old backbencher, who uses a wheelchair, to head outside the Commons to explain what went wrong.
"To my shame, my party … voted to sabotage this bill today," Mr Flynn said, addressing a rally organised by the United Patients Alliance, one of the UK's most prominent medical-marijuana advocacy groups.
"We've seen the utter cruelty and absurdity of cannabis laws" in the case of Alfie Dingley, who has had to travel to the Netherlands to access cannabis oil, he added.
He accused fellow MPs of having a "heart of stone."
One of Bill's strongest supporters – Cannabis Law Reform (CLEAR) president Peter Reynolds – told Police Professional it was "remarkable" that more Tory MPs were "openly supporting" Mr Flynn than his own Labour side.
"Labour seems terrified of supporting these reforms as it appears they don't want to be seen as 'soft on drugs'," added Mr Reynolds, who headed the Legalise Cannabis Alliance until it mutated into CLEAR.
"All it needed was 15 minutes and this Bill could have been passed," he argued. "I'm in no doubt it would have been if it had got to the vote stage".
Mr Reynolds pointed to six forces – Avon and Somerset, Gloucestershire, Durham, Derby, Dorset and Surrey – he claimed that are "not pursuing" personal possession cases of cannabis.
The UK government argues that medicinal cannabis must go through the same rigorous testing that is applied to regular medicine. Some law makers argue legalisation will increase the use of cannabis for recreation.
In contrast, other western European countries, including, Germany, Italy, Portugal, and the Netherlands, allow citizens to use the drug medicinally.
Following Thursday's announcement on Alfie Dingley, a Home Office spokesperson said: "The Government has a huge amount of sympathy for the rare and difficult situation that Alfie and his family are faced with.
"The Policing Minister wants to explore every option and has met with Alfie's family to discuss treatments that may be accessible for him.
"No decisions have been made and any proposal would need to be led by senior clinicians using sufficient and rigorous evidence."