Calls for tighter control of write-offs after 'chop shop' convictions
West Midlands Police is calling for tighter regulation on the re-sale of insurance write-offs after dismantling one of the country's biggest car 'chop shops' linked to more than 100 stolen vehicles valued at well over £1 million.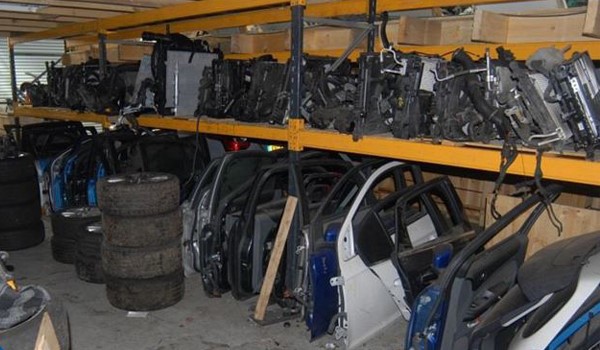 Members of the Birmingham-based gang – Mohammed Nadeem, Nadeem Arshad, Zahir Hussain and Amaan Zameer – bought damaged vehicles from salvage auctions rated 'repairable write-offs' and fixed them using parts stripped from stolen cars.
The stolen vehicles − taken during burglaries and violent carjackings − were dismantled at so-called chop shops in Birmingham before patched-up cars were sold on to unsuspecting buyers via online sales sites.
They were put back on the roads without any mechanical or safety checks and officers found one VW Golf − sold to a man for just over £10,000 − had been re-fitted with airbags taken from a stolen car. A West Midlands Police specialist vehicle examiner concluded they would likely have failed to deploy in the event of a collision.
Detectives linked the gang to 117 stolen cars, mainly taken from the West Midlands but also Liverpool, Milton Keynes, Buckinghamshire, Warwickshire and Yorkshire. However, it is believed the group harvested parts and body panels from hundreds more stolen vehicles.
West Midlands Police Detective Inspector Hannah Whitehouse said: "This group was handling stolen cars on a huge scale… bigger than anything we've ever seen in the West Midlands. We believe hundreds of stolen vehicles have passed through their chop shops. It's unclear who was stealing the cars for them but our belief is the gang was ordering stolen cars to match those they'd bought at salvage auctions.
"We know they bought around 300 salvage vehicles since 2015 from one major dealer alone − and we seized evidence showing they'd advertised 350 vehicles for sale on Gumtree and Autotrader with a combined value of £900,000. This group may not have been stealing cars but they were providing a very active market for car thieves and causing lots of pain and distress to motorists."
West Midlands Police exposed the extent of the group's criminal enterprise after a £70,000 Mercedes SL400 stolen from Aylesbury Road in Solihull on May 1, 2017, was traced to a garage in Digbeth, central Birmingham.
The car − stolen when the driver got out to knock on a friend's door − was found inside with false numberplates and surrounded by a stash of car parts, body panels and numberplates from 21 stolen cars.
The raid led officers to another chop shop in nearby Cheapside − where 24 stolen cars had been dismantled − and to the homes of Nadeem and Arshad, where more car parts and vehicle documents were seized.
Detectives discovered stolen parts were being sold by the men through two eBay accounts, which had shipping addresses linked to Nadeem and Arshad. West Midlands Police found another chop shop in Birminham's Sparkhill district, after a BMW stolen from a garage forecourt in Derby was tracked to a business unit.
Hussain (31), Nadeem (28) and 30-year-old Zameer were arrested − Nadeem after a foot chase, while Zameer was trapped down the side of a van by two neighbourhood officers who discovered the site − and parts to eight more cars uncovered inside.
On March 28, 2018, a further warrant saw officers search 250 shipping containers at a storage facility in Curzon Street, Birmingham. Almost 30 were found to contain parts cut from stolen cars with one − number 118 rented to Arshad − concealing eight engines and gearboxes.
Nadeem, Hussain and Zameer all admitted conspiring to handle stolen vehicles. Arshad (42) initially denied involvement but on day one of the trial at Birmingham Crown Court entered a guilty plea.
Arshad was jailed for seven years, Nadeem for six years, Zameer for five years and three months and Hussain for four-and-a-half years. Zameer was also sentenced to three months for assault with intent to resist arrest, to be served consecutively
A Proceeds of Crime hearing in April will decide how much money the gang needs to repay.
West Midlands Police has been pushing for improved regulation that will make it harder for criminals to buy salvage vehicles and put them back on the roads after being fixed with spares stripped from stolen cars.
Deputy Chief Constable Louisa Rolfe says they have witnessed a near 100 per cent increase in vehicle thefts across the West Midlands in the past four years. "There is a correlation between the types of cars being stolen and those available as repairable write-offs," she said. "It is our firm belief, supported by police intelligence, that this increase is being driven by the criminal demand for car parts.
"We have raised our concerns with government − one of our senior officers sits on a Home Office steering group on the topic − the Association of British Insurers and online auction and sales sites. And we've had some success: one major salvage auctioneer has banned cash purchases from buyers, which improves the audit trail, while more online sales sites are insisting that car part sellers must be licensed breakers.
"But a review and improved regulation on the re-sale of insurance write-offs is needed. We'll be asking if so many badly damaged cars should be offered as repairable write-offs and we also want repaired write-offs to undergo safety checks before they're returned to the road."
West Midlands police and crime commissioner David Jamieson added: "This is an excellent result for every single road user. This gang of organised criminals has put the lives of us all at risk by putting dangerous vehicles back on the road with no safety checks whatsoever.
"This is why I have been calling on government to make a number of changes, which will seriously disrupt the way in which organised car thieves conduct their illicit activities. It is common sense that any vehicle that is written off should have its MOT cancelled immediately and require a full safety inspection before it is readmitted to our roads.
"I have also been calling for tighter regulation around the availability of tools which are being used by thieves to steal vehicles, ensuring that they can only be purchased by those with a legitimate need to own them, such as mechanics and auto-locksmiths."