Calls for roads policing to be made a national priority
Boosting the number of roads policing officers must become a priority of the uplift as successive years of cutbacks have stalled the long-term decline in road deaths, a new report by the Parliamentary Advisory Council for Transport Safety (PACTS) has warned.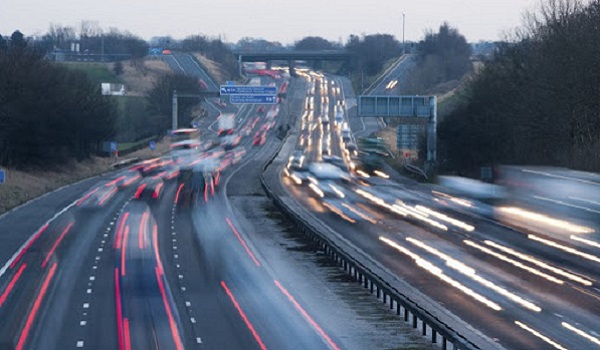 The report – Roads Policing and its Contribution to Road Safety – investigates links between compliance with traffic laws and the number of road casualties to look for ways to enhance the effectiveness of roads policing.
Around 1,800 people die on UK roads each year – more than twice the number of deaths from murders and terrorism attacks combined. A further 25,000 people are left seriously injured.
Approximately two-thirds of all road collisions involve excessive speed, a driver over the legal alcohol limit, failure to wear a seatbelt, or a combination of these factors.
A detailed analysis of the 'fatal four' offences (speeding, not wearing a seatbelt, driving under the influence of drink or drugs, and using a handheld mobile phone behind the wheel) since 2010 found that, broadly speaking, where enforcement has been increased, compliance has improved and casualties have dropped; but where cutbacks have affected enforcement, there has been little or no improvement.
While the total number of police officers has fallen by around 13 per cent since 2010, the number of dedicated roads policing officers fell by 22 per cent between 2010 and 2014 and has seen a further reduction of 18 per cent since 2015.
In 2019, dedicated roads policing officers made up just four per cent of total force strength. However, the Police Federation of England and Wales (PFEW) says that in reality, many of those currently designated as dedicated roads policing officers are often carrying out more than one policing function, meaning the true numbers are even lower.
The report says that in addition to the "clear evidence" that specialist roads policing is effective, a boost in numbers would be welcomed by the public. It suggests that wider use of technology to "monitor, deter, detect and prosecute" should be exploited to help police target high-risk individuals and assist in improving compliance with seat belts, mobile phones, drink driving and other safety requirements – not just speed.
PACTS is calling for a review of Home Office-type approvals to allow for the development and implementation of technologies such as cameras with more than one purpose and evidential roadside testing equipment.
Chief Constable Anthony Bangham, National Police Chiefs' Council (NPCC) lead for roads policing, welcomed the PACTS report. "It comes at a time when a number of key institutions, including the government and Her Majesty's Inspectorate of Constabulary and Fire and Rescue Services (HMICFRS) are also interested in how we police our roads," he said.
"There are more than twice as many road deaths as homicides in the UK every year. This shows how significant road death still is. A successful road safety strategy requires a level of enforcement and most enforcement powers rest with the police. Reports, such as this one, are highlighting where improvements can and should be made so that we can create a new urgency across policing and partner activity to reduce death and serious injury and make our roads the safest in the world."
PACTS executive director David Davies said: "The coronavirus lockdown has highlighted the importance of roads policing, with traffic speeds increasing on empty roads and worrying incidences of extreme speeding. This could have serious consequences, particularly for people following government advice to walk and cycle.
"The number of road deaths is more than twice the deaths from homicide and terrorism combined and breaches of road traffic laws are the biggest single cause of road deaths. This needs to be recognised in the Government's priorities and resources for policing.
"The public support more enforcement. Roads policing provides double value: tackling those who drive dangerously often disrupts wider criminality. For example, Essex Police found that almost half the drug-drive offenders had previous arrest records for serious crimes such as burglary, drug dealing and violent crime."
The report also recommends that the NPCC roads policing strategy should be revised and that HMICFRS should include roads policing in its annual assessment.
Responding to the report, Gemma Fox, PFEW roads policing lead, said: "Roads policing is not a nice to have or a 'we will do it if we can'- but that's how it has felt over the past 10 years.
"There are almost 22,000 fewer officers on our streets since 2010 meaning roads policing is now virtually invisible – but we cannot possibly replace officers with technology. It is vital the Government and chief officers realise proper policing is a key to the safety of our entire road network. I urge the Home Office to make this neglected area a priority in its recruitment drive and Strategic Policing Requirement."
Ms Fox championed the presence of officers as a deterrent and stressed this tactic should not be underestimated, adding: "Hundreds of thousands of people use our road network every day and they have the right to feel secure and be kept safe. They deserve dedicated, professional, well-trained officers policing our roads and it frustrating to witness them being let down."
Ms Fox continued: "I also want to send a clear message that roads police officers are not here solely to perform an enforcement role. Officers exist to assist, guide and protect motorists by providing help and advice.
"I welcome the PACTS report which we have fed into and there have been some positive steps forward to address this issue. There is a long way to go and our Roads Policing User Group looks forward to continuing work with key stakeholders as this overlooked area at last comes under the spotlight," she concluded.
Tim Rogers, deputy secretary of West Midlands Police Federation and the national Federation lead on police pursuits, said: "Cuts to force budgets have had a massive impact on roads policing. In relative terms, the number of roads policing officers has fallen by far more than the overall reduction in police numbers.
"Many of the recommendations from this report are in line with what the Police Federation's own roads policing group have been putting forward for a number of years now. We need to see roads policing prioritised so that we can bring about a reduction in road deaths and serious injuries, so I hope this report will make the Government and Chief Officers consider a change of direction."
He added: "The track record of cuts and a lack of prioritisation by some chief officers has damaged roads policing.
"I feel this is a very positive time for roads policing thanks to this work and the HMICFRS and Home Office reviews. It is time for everyone to recognise and prioritise its importance. Chief constables must take notice and allocate budgets accordingly," Mr Rogers concluded.
The PACTS report has been published ahead of a cross-Whitehall review of roads policing, with an inspection report by HMICFRS and public consultation into the issue expected to be announced shortly.
Earlier this week, new data obtained by the RAC through freedom of information requests found that two-thirds of police forces had caught people driving in excess of 100mph during the first three weeks of the coronavirus lockdown.
The highest speed recorded was 163mph on the M1 in London, 93 miles over the speed limit.