BTP apologises for 'significant errors' made in Manchester Arena bombing
British Transport Police (BTP) has apologised for "significant errors" in the hours leading up to the Manchester Arena bombing and in the immediate aftermath.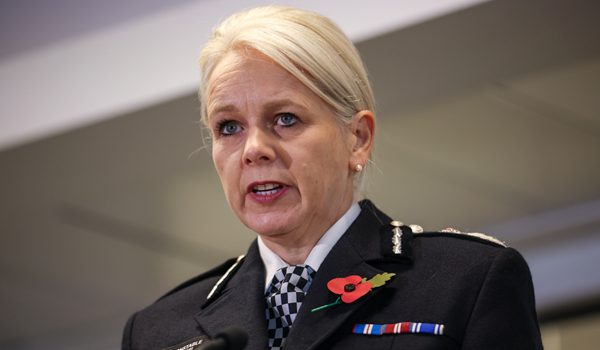 Twenty-two people were killed and more than 1,000 injured when a suicide bomber detonated his device at the end of a concert by the singer Ariana Grande on May 22, 2017.
Chief Constable Lucy D'Orsi said its planning and preparation "was inadequate to respond to an incident of this magnitude".
In a statement following publication of Sir John Saunders' second report of the public inquiry into the bombing, Ms D'Orsi said: "Here, in this city, 22 people were murdered by the evil actions of terrorists, and hundreds of lives were changed forever. We will never forget them, and those who must live with a pain they don't deserve to feel.
"Today, we heard the recommendations made by Sir John Saunders and the Manchester Inquiry team. BTP accepts their findings and recommendations, and I thank them for allowing us to fully participate in the inquiry.
"Significant errors were made in the hours leading up to this horrendous attack and in the immediate aftermath. Our planning and preparation was inadequate to respond to an incident of this magnitude.
"For those errors, I want to apologise to the families of the victims and to every one of you affected by that terrible night.
"On behalf of everyone in the British Transport Police – I am truly sorry.
"There were mistakes and misjudgements, but there was also compassion and bravery. Police officers and staff who ran towards the attack without hesitation, as well as security staff and members of the public. In the time that has passed, those responders have also carried the trauma of that night. They too, deserve our support.
"This is a part of BTP's history we will never forget. And as you would expect, today's report does not mark the start of our improvements but acts as an invaluable aid to build on the improvements we have already made – and are continuing to make – since May 2017."
D'Orsi added: "We are already working more closely than ever, with the agencies alongside me today, committing to programmes of joint exercising and testing, so we are better prepared.
"Our Major Incident Plan has been reviewed, simplified, and improved – and our officers are better trained, including those in key command roles.
"In BTP, one of our values is that we strive to be better every day. This means continually improving our planning and response to major incidents.
"The changes we have made and those that are planned mean we are in a much stronger position to respond effectively with our partners to incidents of this nature – across the railways of England, Scotland, and Wales.
"The families and friends of the victims, and the city of Manchester, will continue to grieve for years to come. We share this heartache, not just as an organisation, but as individuals.
"No learning can turn back the clock. No apology can mend a broken heart.
"We can only reflect on today's report with candour, and I promise you, we will do better."
Key findings on BTP's preparedness published in the inquiry report on Thursday (November 3) included:
BTP's Major Incident Manual was deficient in a number of respects which were relevant to BTP's response to the attack;
The Major Incident Manual had not been updated to reflect the introduction of the Joint Emergency Services Interoperability Programme (JESIP) in 2012. It should have been;
BTP did not have a site-specific plan for the Victoria Exchange Complex. It should have done;
Although BTP officers had received some training in the JESIP, the principles were not sufficiently embedded;
BTP officers were not adequately trained in first aid. This was a national issue and not the fault of BTP;
BTP's approach to participating in multi-agency exercises should have been more rigorous than it was; and
BTP's approach to exercising for scenarios such as the attack should have been more rigorous than it was. Thoughtful participation in well-designed exercises, with an effective debrief process, would have eliminated many of the problems with BTP's response on the night of May 22, 2017. The JESIP teaching should have been robustly put to the test. This did not occur.