Bravery of police dogs and handlers recognised at inaugural awards
The bravery of the nation's police dogs and their handlers has been recognised at the first ever Thin Blue Paw Awards at Knebworth House in Hertfordshire.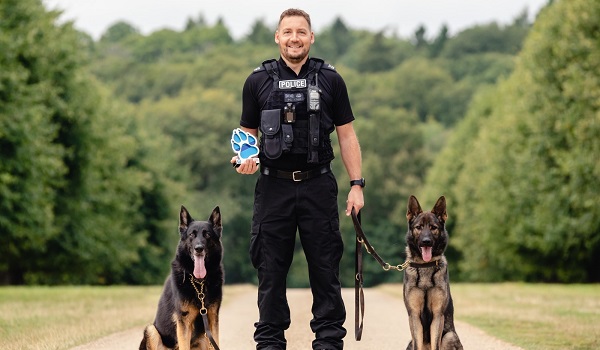 It was the inaugural event for the Thin Blue Paw Foundation, a national dog welfare charity that celebrates and supports working and retired police and prison dogs and saw  140 people and nine dogs come together to celebrate the difference that police dogs and their handlers make every day.
Charity co-founder and trustee, Kieran Stanbridge, said: "There are approximately 1,500 serving police dogs working across the UK and, every day, they put their lives on the line alongside their handlers to help fight crime, save lives and keep the public safe.
"As a charity, we want to support these dogs to live long and happy lives when they retire; but we also want to acknowledge, recognise and celebrate the dogs, police dog handlers, and duos who have made a real difference in their communities."
The event was hosted by BBC News presenter Rich Preston who said: "Police dogs are the near-perfect colleague; they don't complain about going to work, they enjoy their job, and officers up and down the country trust them with their lives every day. And at the end of a long shift, they're still a friend their handler is happy to take home and have as part of the family.
"They'll often put themselves in harm's way to catch a violent offender, track down a vulnerable missing person, or sniff-out drugs or weapons which would otherwise end up on the street. It's only right we celebrate the incredible skills, successes, and service of these remarkable animals.
"I'm very excited to be involved in these awards, and to spend the evening in such exceptional four-legged company. A huge thank you to the Thin Blue Paw Foundation for inviting me and for the invaluable work they do."
In total, six awards were handed out to dogs, handlers and partnerships:
Outstanding bravery: PD Stark and Police Constable Paul Hopley
West Midlands Police duo PD Stark and PC Paul Hopley, from Staffordshire, leapt into action when they were called to allotments to reports of attempted break-ins in the early hours on December 14, 2020. Stark set off to find the offender and soon located a man, giving chase. But the suspect turned on Stark and struck him repeatedly around the head with a machete. As PC Hopley discharged his incapacitant spray, allowing Stark to detain the man and drag him away from the dropped knife. Stark was covered in blood and had suffered a number of lacerations to his face. He needed emergency veterinary treatment, stitches and four weeks off work before returning to duty.
Lifesaver: PD Calli and PC Megan West
This Kent Police pair responded to an emergency call in June 2021 from a man in crisis saying he was going to commit suicide. He had given a few clues as to his whereabouts and PD Callie and PC Megan West were deployed in an attempt to find him. In just ten minutes, Calli had managed to pick up and follow a scent just as PC West saw the man jump from a tree with a rope around his neck. He was able to cut him free and commence emergency first aid while requesting support from paramedics. The man made a full recovery and has since been able to seek the help he needed.
Crime fighting duo: PD Bart and PC Kelly Walker
PD Bart and PC Kelly Walker have been working together on behalf of Cheshire Police and North Wales Police for four years. They work across a huge area to support all units and assist with firearms support, high-risk missing persons, and tracking from scenes of crime, as well as supporting new handlers into the team. PC Walker has helped to design a new body armour for general purpose dogs, with Bart trialling the design, and the pair are helping to keep police dogs across the nation safe.
Rising star: PD Elvis and PC Colin Nash
Two-year-old Labrador PD Elvis was licensed as a passive and proactive drug detection dog with City of London Police in March 2020 and has gone from strength-to-strength since. His nose has helped to take numerous knives off the streets and identified victims being used for County Lines drugs. But his nose has also got him into some trouble; such as devouring someone's Nando's takeaway, leaving handler, PC Colin Nash from Suffolk, red-faced.
Lifetime achievement: PD Nala and PC Sean Foster
Northamptonshire Police officer Sean Foster and his dog, Nala, were licensed in February 2014 and went on to have an incredible career. In 2016, while responding to reports of an aggravated burglary, Nala was struck around the face with a crowbar but, despite her injuries, tracked two missing suspects who were hiding under a caravan. Two years later, Nala helped track two suspects who had fled from a vehicle stop and search and, in 2020, she went after burglars who had escaped through a residential estate. Despite the area being cleared by the police helicopter, Nala spent two hours searching gardens and found a suspect hiding. Just before her retirement in April this year, she caught and held a man as he attempted to flee following a car chase despite him trying to choke her.
Special recognition: PC Darren Sewell
Leicestershire Police officer Darren Sewell has been a frontline officer for 22 years, a dog handler and firearms support handler for 16 years, and a trainer for four years. He has been an ambassador for police dogs and his life revolves around the dogs and their welfare. He cares for PD Jura and PD Gilly, as well as helping run on puppies for neighbouring forces. In 2020, he was diagnosed with stage 4 lymphoma (cancer) and underwent chemotherapy treatment while continuing to care for his pack, train and run on Jura, and prepare for their return to duty.
Surrey and Sussex Police dog handler PC Claire Bird and PD Eva were awarded a highly commended certificate in the Lifesaver category; Derbyshire Police officer PC Andy Bailey and his two dogs – PD Tilley and PD Riley – were named runner-up in the Crimefighting Duo category; and Nottinghamshire Police dog Quantum – handled by PC Jennie Ellse – was honoured with highly commended in the Outstanding Bravery category.