Border force stops 153 attempts a day to reach Britain illegally
UK Border Force foiled more than 56,000 attempts by migrants to reach Kent from Calais in 2016.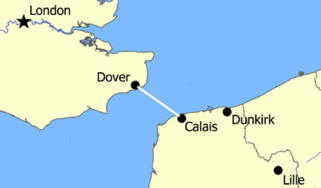 UK Border Force foiled more than 56,000 attempts by migrants to reach Kent from Calais in 2016. The Home Office figures are the second highest in seven years, despite dropping by 25,000 compared to 2015, showing that up to 153 efforts are disrupted every day. The number of foiled attempts includes instances where the same people had repeatedly tried to gain entry on different days. The Home Office said the decrease was a "success", and the figures "make absolutely clear that our approach to securing the UK`s border is working". It added: "We will continue to work closely with our French counterparts to maintain border security and keep legitimate passengers and trade moving." The information, received through a Freedom of Information (FoI) request, came in the same week that violent clashes erupted in Calais, involving up to 200 migrants. A number of police officers and migrants have been injured in the latest incidents, which have involved Afghans and Eritreans. The violence prompted a warning from The Road Haulage Association that UK lorry drivers are being put at risk. The industry body, which has a long-running campaign calling for the deployment of the French military in Calais, said some drivers chose to divert their vehicles via longer routes to avoid the area. Dover and Deal MP Charlie Elphicke believes the numbers are still too high, adding: "These figures underline the true scale of the challenge we face – and why we need more investment at our border. "This is why we worked so hard to get the Calais Jungle dismantled." Some 7,000 people were cleared from a makeshift camp in Calais last autumn, with investment in infrastructure, fencing and CCTV helping to tighten border security. Earlier this month, Human Rights Watch claimed French police officers are continuing to assault and abuse refugees and migrants in Calais without retribution, including routinely using pepper spray against migrants.