BlueLight Commercial goes to market to buy 8,000 vehicles
BlueLight Commercial has announced its "most significant" tender to date as it looks to purchase more than 8,000 vehicles for police forces across England and Wales.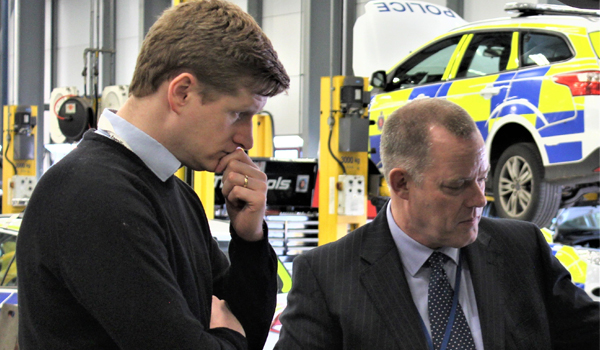 The company was established earlier this year to improve procurement processes and ultimately save taxpayers' money, with the Government stressing the importance of "policing continuing to improve efficiency in return for additional investment".
Chief executive officer Lianne Deeming said: "We are very excited to be leading the search for UK policing's new fleet. Having just one contracting authority means suppliers only need to deal with one customer – BlueLight Commercial – rather than 43 different police and crime commissioners. It also means we can manage the contract centrally, supporting fleet leads by dealing with any issues as they arise and ensuring taxpayers get the best value for money."
She added: 'Vehicles are crucial to effective operational policing and we recognise how important it is that we get this right. My experienced team has been working very closely with police forces for months to understand their requirements and to ensure the tender delivers what forces need to protect the public."
Ms Deeming said BlueLight Commercial's tender for companies to supply a new nationwide police fleet was its most significant piece of work to date.
John Gorton, chair of the National Association of Police Fleet Managers (NAPFM), said: 'Our vehicles are selected, modified and maintained with the unique needs of policing in mind to make sure they are fit-for-purpose. They are driven by highly-skilled, trained, authorised officers.
'At NAPFM we are collaborators by nature, particularly when it comes to supporting national contracts. We've worked with several organisations over the years and are now delighted to be working in partnership with BlueLight Commercial.'
BlueLight Commercial saved around £1.8 million during the summer when buying vehicles against current base prices. The company also helped policing take advantage of BP's offer of free fuel during lockdown.
In all, the company is looking at where savings can be achieved across the £2 billion policing spends every year on third-party products and services, including IT and professional services.
Matthew Scott, chair of the BlueLight Commercial board, said: 'This is about doing what is right for policing – getting officers and staff the equipment they need to do their jobs but also buying smarter.
"Lianne's team has a great blend of people with many years of experience in policing procurement, but also private sector knowledge too. In the long term, BlueLight Commercial is about transforming how policing thinks – making it a much more commercially-minded sector.'
The vehicle tender exercise, which launched on October 9, is a further competition under the Crown Commercial Services vehicles framework RM6060, open to manufacturers which have already been successfully appointed to the police specific lots of the framework.
The aim is to have contracts in place for April 2021.