Black people nearly nine times more likely to be targeted in stop and search new report claims
Black people are almost nine times more likely to be stopped and searched for drugs than white people, according to a new report.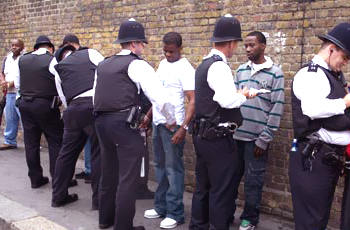 Drugs-related stop and searches on black people during 2016/17 were 8.7 times that of white people, and 7.9 times that of white people for other reasons. 
The overall number of stop and searches in England and Wales has dropped to the lowest-ever recorded level, down to 303,845 for all offences – a fall of 75 per cent between 2010/11 and 2016/17. 

The report, The Colour of Injustice: Race, Drugs and Law Enforcement in England and Wales, was conducted by the London School of Economics and Political Science, independent drugs charity Release and the Stopwatch action group coalition.  
It found almost 17 per cent of all arrests of black people resulted from stop and search, whereas only five per cent of arrests of white people came from stop and search – three times more. 
Figures show that the number of stop and searches on white people dropped by 52 per cent between 2010/11 and 2016/17.  
However, several police commentators suggested there needs to be greater understanding of how stop and searches have reduced in general use but maintained to target violence. Former Assistant Chief Constable of Leicestershire Police Stephanie Morgan said: "Stop and search is misunderstood. It takes place in high crime areas, which tend to be in areas of socio economic deprivation and which have a higher percentage of minority groups. This explains why a higher number of black people get stopped. Stop and search protects black victims of crime." 
Ms Morgan told Police Professional: "Stop search is very complex and sometimes the police databases are not sophisticated enough to demonstrate the point I'm making. Police concentrate their efforts in high crime areas, these areas tend to be deprived and proportionally contain a greater number of ethnic minorities who are both perpetrators and victims of crime. My view is that this explains why a disproportionately higher number of ethnic minority people end up being stopped searched. Sadly, the stats and evidence prove that more young men than women are both the victims and perpetrators, and this explains the gender disparity in stop search. The police aren't racist, demographics and poverty are at the heart of the issue." 
The Metropolitan Police Service (MPS) recorded the highest number of stop and searches for all offences, but Dorset Police was ranked top in black and white disproportionality ratios, followed by Suffolk Police, for both stop and searches for drugs and all total offences.  
Regarding the figures for Dorset and Suffolk, Gavin Hales, a Senior Associate Fellow and a former Deputy Director of the Police Federation, said his immediate thought is that "the significance might be of County Lines in places like Bournemouth and Ipswich". 
Mr Hales told Police Professional: "Identifying whether disproportionality exists is relatively straightforward, though we should be mindful of using increasingly out of date census data, and data for all ages when policing is mostly concerned with a relatively narrow age range. The real challenge is identifying why disproportionality exists. Any such discussion needs to examine factors such as the spatial distribution of crime, and its relationship to social and economic disadvantage, decisions about where to locate police resources, police priorities and their relationship to strategy and tactical decision making." 
Sgt Tola Munro, president of the National Black Police Association (NBPA), said an "excess in the use of force, a disproportionate use of stop and search and an increase in deaths after police restraint were the lived experiences of our black communities".  
He added: "I am passing on a real concern on behalf of our communities who feel they are being over-policed. And worse we are seeing disproportionately high levels of stop and search in places with small black resident communities such as Dorset.   
"This generates real anger and is despite evidence from the Her Majesty's Inspectorate of Constabulary and Fire and Rescue Services that white people are more likely to be found in possession of prohibited items than black people – the 'find rate' for white persons searched is 33 per cent compared to 26 per cent for black persons."  
"The NBPA wants to work with the [MPS] Commissioner and other police chiefs to reduce these clear race disparities. We need a firm commitment from the Home Office and Policing Minister to address the excess use of force and related race issues in policing." 
David Lammy MP commented: "Stop and search is inherently unfair, unjust and ineffectual. Even Theresa May agrees. So why is Sajid Javid extending this practice? By ignoring the evidence and pandering to the right of the Tory party, the Home Secretary risks deepening societies divides."