Biggest ever intake of officers as force continues to deal with coronavirus crisis
Nottinghamshire Police has completed the single biggest intake of officers in its history and aims to have them "out with patrols as quickly as it can" to help deal with the current coronavirus crisis.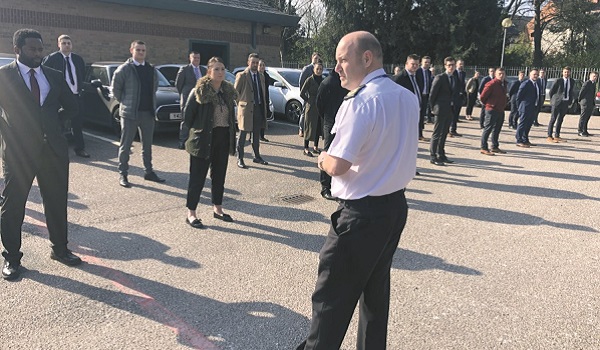 The force believes its double intake of 72 officers is the largest in the country outside of the Metropolitan Police Service – and plans to start the next round of recruitment from as early as next month.
The new recruits will be given some initial training and are expected to be able to shadow other officers within weeks.
Chief Constable Craig Guildford said: "The additional numbers will bolster my hard-working officers and staff who have continued to do a brilliant job despite the challenges we are currently facing.
"We are ahead of the national curve on recruitment of additional officers and it is great to be in this position, especially at this current time so that we can support our officers on the front line as they patrol the streets encouraging people to stay indoors to save lives.
"In order to support this critical piece of work we have changed some of our training so we can have this solid reserve of officers ready to be deployed where we need them. This will help us with the work we are doing to help stop the spread of coronavirus.
"They will be given self-defence and first aid training and we'll have them out with our patrols as quickly as we can. The recruitment team and training staff have done a great job in very challenging circumstances."
Most of the new officers will be deployed in neighbourhood policing roles across Nottinghamshire and as part of the expansion of Operation Reacher to tackle organised crime, which is being rolled out to all parts of the city and county. There will also be more dedicated beat officers as part of the growth in numbers.
The remainder will go into public protection, crime investigation, cybercrime and fraud, plus additional knife crime and robbery team officers. The force hopes this will help drive down crime and support victims.
Nottinghamshire Police says it is so far ahead with its plans that it will now recruit an extra 150 extra officers over the next 12 months – on top of the 147 already recruited this financial year.
The force has now taken on the full 107 police officers pledged as part of the national uplift and a further 40 delivered by the 2020/21 budget – many of whom have already completed their initial training and are "bolstering the front line".
Plans are already underway to recruit a further 150 officers by March 2021 – bringing the total number of additional officers to almost 300.
Nottinghamshire Police says it is continuing with its recruitment programme despite coronavirus, as this could be a "life-line to those who may have just been laid off from other careers due to the pandemic" – but all recruitment events are being done online rather than face-to-face.