Better testing needed as number of fentanyl-related deaths increase
The UK could mirror the US and Canada where fentanyl and its analogues are being added to heroin and has resulted in tens of thousands of deaths, according to the Advisory Council on Misuse of Drugs (ACMD).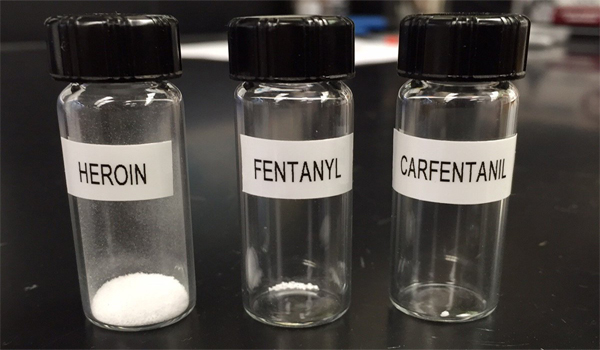 The number of fentanyl-related deaths in the UK is on the rise but the true nature of the problem could be hidden as forensic analysis is limited, the ACMD warns in a report published on Friday (January 3).
It said the UK Government and agencies dealing with drug issues should learn from major initiatives recently developed in the US and Canada, where billions of dollars are being spent to counter the damage from the illicit use of the powerful synthetic drug.
Law enforcement action in these countries includes investment in technology to detect the supply of the drug, especially through the mail, and in specific units to combat sales on the darknet.
Canada has invested heavily in treatment for addicts and in overdose prevention, including implementing safe consumption rooms.
Fentanyl – a licensed medicine first used as an anaesthetic and painkiller in 1963 – is 50 to 100 times more potent than morphine. One of its analogues, carfentanil, is 100 times as therapeutically potent as fentanyl and is only legally used in veterinary application, such as sedating large animals.
Relatively low production cost and high potency makes them highly lucrative materials if illicit suppliers can use them to replace or supplement traditional opiates such as heroin. They can be manufactured in clandestine laboratories and very small amounts can cause severe clinical effects or death, the ACMD said.
Fentanyl-related deaths in the UK have been steadily growing – there were at least 135 in 2017, compared with eight in 2008, and carfentanil has been identified in an increasing number of drug deaths.
Fentanyl distribution and associated overdoses have been episodic in the UK, "resulting from individuals obtaining and distributing materials via the internet". In 2017, the National Crime Agency reported heroin containing fentanyl seized in Yorkshire. There was also a heroin-related death in April 2017 in which carfentanil was identified at post-mortem. Targeted testing in the North East of England found that apparent heroin-related deaths involved fentanyls.
In December 2018, the Metropolitan Police Service seized 3,500 counterfeit tablets of 'Percocet' that were found to contain fentanyl only. Similar fake tablets have been reported to cause deaths in the US.
Precisely how many deaths are associated with fentanyl in the UK is uncertain, the ACMD says, as it is not always clear from toxicology reports whether tests examined if fentanyl (or its analogues) were present. The ACMD found that not all laboratories are equipped to test for fentanyl analogues; those that are have become so on an ad-hocbasis in response to localised outbreaks.
"As a result of the low concentrations involved and the range of possible variants, detection of fentanyl residues in post-mortem analysis is challenging and compounded by the expected low incidence. Consequently, fentanyls have not to date formed part of the traditional toxicology screen used in suspected overdose cases," its report concludes.
The ACMD is therefore calling for a full government review of this growing problem and for additional controls to be introduced in the UK.
Chair of the ACMD, Dr Owen Bowden-Jones, said:"We have seen a recent increase in fentanyl-related deaths in the UK largely driven by this potent drug being added to heroin. The consumption of fentanyl and other new opioid drugs can cause life-threatening harms, including rapid overdose, and their emergence onto UK drug markets is of great concern. We must remain vigilant in protecting the public from this risk."
In 2017, there was a ten per cent increase in drug overdose deaths in the US, and 300 per cent increase on the level recorded in 2000, much of which is attributed to a rise in deaths resulting from taking synthetic opioids.
Among the more than 70,000 overdose deaths, 28,466 were attributed to the Other Synthetic Narcotics category, dominated by fentanyl.
In October 2017, the US President declared the level of opiate-related overdose deaths a national public health emergency and proposed a $13 billion budget over two years to address the issue.
There were 4,460 opioid-related deaths reported in Canada in 2018, 70 per cent of which involved a fentanyl. This is a sharp increase since 2016, when there were 3,017 opioid-related deaths with 50 per cent involving a fentanyl. Recent data from Vancouver indicates that more than 90 per cent of samples bought as heroin tested positive for fentanyl.
"To respond to this emerging threat, we must carefully examine the lessons learnt in other countries, particularly the US and Canada, to understand and implement effective interventions," Dr Bowden-Jones said.
"Improved monitoring of these drugs across the UK will also assist in building a more accurate understanding of the problem and potential solutions. Fentanyl and its analogues represent a significant new challenge and action is now needed."
The report contains eight recommendations, including:
The Government should conduct a full review of the approach of other countries to fentanyl markets, particularly those in North America, and recommend controls for the UK;

Agencies with responsibilities relating to drug misuse should monitor the international situation and share available UK data. There should be a comprehensive early warning system with access to updated UK drug misuse data sets; and
The Government should commission research at a local and national level into the prevalence of fentanyland fentanyl analogues in drug seizures and non-fatal cases involving a person who has been treated in hospital after taking heroin. It should increase funding for the Forensic Early Warning System to boost capacity for analysing drug seizures.
In 2019, the European Monitoring Centre for Drugs and Drug Addiction (EMCDDA) warned that fentanyl derivatives make up the majority of the 49 new synthetic opioids it is monitoring. Six fentanyl derivatives were detected in Europe for the first time in 2018 (34 detected since 2009). In the most recent data, these highly potent drugs accounted for 70 per cent of all seizures of the new synthetic opioids. More than 300 seizures of carfentanil were reported and a total of 4.5kg of a precursor chemical for the manufacture of fentanyl derivatives was also seized in the EU. 
With only very small volumes needed to produce many thousands of street doses, the EMCDDA said these substances are easy to conceal and transport, representing a challenge for law enforcement and customs.
The Home Office, which commissioned the study into the risks posed by fentanyl and its analogues, said: "We are grateful to the ACMD for this report, which we will consider carefully.
"We have already commissioned a major independent review of drugs, looking at a wide range of issues, including enforcement, to inform our thinking about what more can be done to tackle harm from drugs.
"We are also moving at pace to recruit 20,000 extra police officers to fight all forms of crime and have launched a review of serious and organised crime to consider the powers, capabilities, governance and funding required to bolster our response to today's threats, including drugs."