Better sleep the focus of new webinars for 'fatigued' police officers and staff
Oscar Kilo, the National Police Wellbeing Service, has teamed up with Dr Sophie Bostock – 'The Sleep Scientist' – to launch the first in a series of 'Better Sleep' webinars aimed at supporting police officers and staff with fatigue and sleep problems.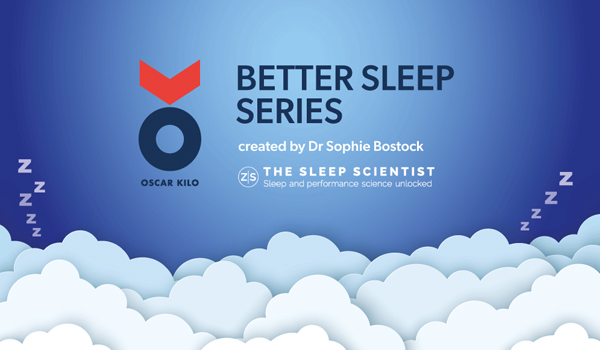 The webinars have already been piloted by Surrey Police and Sussex Police, with 85 per cent of the 100 officers and staff who took part saying it had improved their sleep.
Chief Constable Andy Rhodes, service director for Oscar Kilo said: "The results from our first ever national police wellbeing survey in 2019, told us very clearly that fatigue is a big issue within policing.
"In fact, the survey identified that 45 per cent of police officers and 30 per cent of police staff reported sleeping less than six hours per night very often or all of the time and that people working shifts experience poor sleep quality more frequently, with 27 per cent of police officers and 25 per cent of police staff reporting disturbed sleep."
He added: "We do a tough job, and working for the police – especially if you are a shift worker – means that your sleep patterns are vulnerable to all sorts of challenges. This is why we've launched these webinars to help you to learn and practice strategies to improve the quality of your rest, no matter how much, or how little, you get.
"We are very excited to be working with Dr Bostock, who is one of the UK's leading sleep experts, and we hope as many people as possible can benefit from her wealth of knowledge in this specialist area."
The webinars are open to anyone working in policing including officers, police staff, volunteers and police community support officers and will focus on five specific areas.
Dr Bostock, who regularly features as a sleep expert for ITV's This Morning, said: "Sleep underpins not only your physical health, but your cognitive performance, emotional resilience and wellbeing so these sessions are about much more than just how much sleep you get.
"Each webinar will give you actionable tips to help you take control of your sleep, to improve your mood and energy levels. We'll look at the latest research in sleep science to uncover what works, for whom, and why and how you can use this to improve your own sleep and feel better."
The first session, 'Banish the Winter Blues', is for anyone interested in improving their natural energy levels during the day, especially during the long dark winter months, particularly in the context of local lockdowns.
The second webinar is targeted towards those working nights, and will explain the science of how to adjust the body clock to optimise recovery as a shift worker.
There will be three further sessions that will cover topics such as chronic sleep problems, nightmares and snoring, and advice for parents.
Each webinar will be 45 minutes long and the format will be an interactive 30-minute presentation with a 15-minute live Q&A.
Evaluation of the Surrey and Sussex pilot showed that almost all of the officers and staff who took part were able to use what they had learnt to take action and improve their sleep habits.
Feedback included:
"Just thinking and understanding about sleep has given me a more positive way of dealing with the 'not sleeping' part of it. I've now got several tools that I can use that I can work into my daily routine… my sleep habit has formed over years, I don't expect it to change overnight. I found it really interesting and varied…" (Force Research Bureau operator, a member of police staff working a 24/7 shift);
"The Sleep Project has been amazing, interesting and a tremendous insight into 'The Sleep Process'. Sophie has such a refreshing approach and is so engaging…" (Detective constable in a Major Crime Unit); and
"I really like the emails with little tips and links. I've found so many things useful that have helped me get more restful sleep." (Senior crime scene investigator).
The webinars will take place once a month from November 26 onwards and will focus on the following topics:
Session 1. Thursday November 26, 11am – Banish the Winter Blues.
Session 2. Monday December 14, 4pm – Shift Work Strategies.
Session 3. Thursday January 7, 11am – Solving Stubborn Sleep Problems.
Session 4. Thursday February 4, 11am – Nightmares, snoring, sleep walking and other challenges.
Session 5. Thursday March 4, 11am – Sleepless parents' survival guide.
If you are a police officer, member of police staff or a volunteer with a police force in England and Wales, you are eligible to join the sessions. To find out more about the webinars and details of how to register, visit www.oscarkilo.org.uk/bettersleep