Bespoke spit guard introduced in Leicestershire to minimise public impact
Frontline Leicestershire Police officers are being issued with a "less restrictive" spit guard of the force's own design.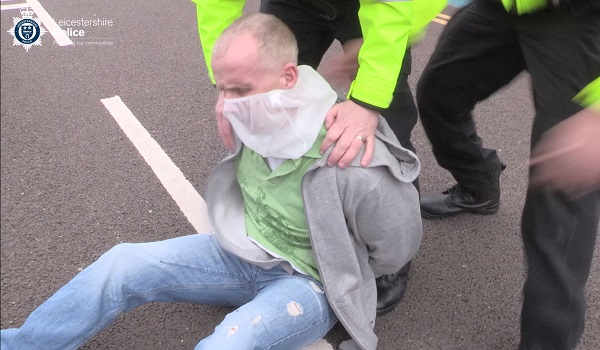 Sergeant Mel Thomas was commissioned to invent a bespoke piece of protective equipment that would allow officers to more easily monitor its impact on the wearer.
The resulting product is made of 100 per cent breathable nylon and does not cover the top of the detainee's head – instead sitting over their nose and mouth and resting around their neck.
A shipment of the spit guards has now arrived in force and is being rolled out to frontline officers.
The announcement was welcomed by Leicestershire Police Federation, which described spit guards as an "essential" part of officers' equipment.
Sgt Thomas said: "We had concerns about the full head spit hoods as it is much harder to see a person's eyes and monitor their reactions.
"Also taken into consideration was the public perception of placing a full hood over a person's head.
"This design serves the purpose of protecting officers, is less restrictive for the person wearing it and by only masking the lower face we hope it will be less alarming for the general public."
A recent Leicestershire Police Federation survey found 96 per cent of local officers supported the introduction of spit guards.
The research also revealed that one in four officers had been spat at while on duty.
Leicestershire Police said it understood officers' views but wanted to find a product that would minimise the impact of a full rollout on public perception.
The force has put together an internal training video and policy to help officers get to grips with the new spit guard design.
Guards will be issued to all officers who view the video or receive input on their officer safety training.
Assistant Chief Constable Jason Masters said: "We take the health and safety of our officers extremely seriously and spitting at them is not acceptable.
"The spit guard being introduced to all front line police officers has been developed by taking best practice from across the country, and incorporating it into an item that provides protection for the officer without generating panic in the person wearing it."