Bedfordshire's drug market profile reveals true extent of substance abuse
Nearly one in ten of all 18 to 59-year-olds in Bedfordshire are regular drug users, according to a multi-agency study led by Bedfordshire Police, with up to £53.8 million spent on cocaine every year and a further £59 million on cannabis.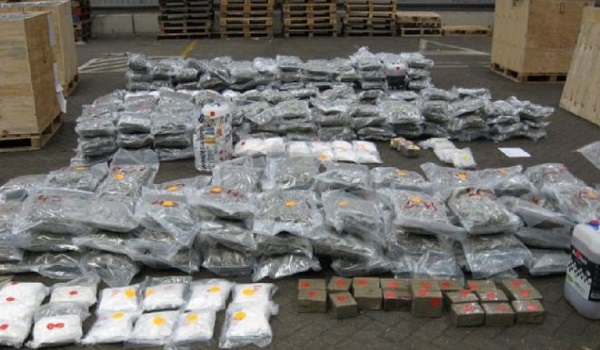 The force worked with more than 100 different partners to establish the scale of the drug threat and identified 34,000 drug users in the county – equivalent to nine per cent of the 18 to 59 age group.
The study was commissioned by Detective Chief Superintendent Mark Lay, head of intelligence, serious and organised crime and cybercrime at Bedfordshire Police.
"The threat posed by the supply and use of drugs has never been so clearly or frequently demonstrated," he said. "Cash-rich drug markets exist not only in our urban towns, but they have also permeated our rural communities. Recent high-profile incidents of violence directly linked to our local drugs trade are both numerous and incredibly harmful.
"This harm is a persistent threat to young vulnerable people who are not only targets of physical violence such as robberies and stabbings, but who also suffer the mental trauma of drugs debt bondage and habitually being away from home, with little rest from the 24/7 business models that they operate."
Det Chief Supt Lay, who is also president of the Drug Expert Witness and Valuation Association and chair of the national drugs tactical working group, added that competition to keep control of the drug supply lines, as well aggressive control of drug dealing territory, also results in "incredibly volatile conflicts between gangs and organised crime groups".
An increase in serious violence and the involvement of younger people were identified as the most notable changes to the drugs market in Bedfordshire in recent years.
Bedfordshire Police received 115 responses to its drugs profile – from different areas of local authorities and the health service through to schools and the voluntary sector.
Forty-six per cent said the rise of 'County Lines' had made access to drugs easier, while 44 per cent said gang culture was a driver for people to keep taking drugs. Of those working in rural communities, 80 per cent said that drugs were available 24/7.
Cannabis was described as 'readily available' by almost 90 per cent of agencies, while the availability of other drugs was put at 83 per cent for cocaine, 77 per cent for crack cocaine, 74 per cent for heroin, 47 per cent for illicit pharmaceuticals and 46 per cent for novel psychoactive substances (NPS). Users taking multiple types of drugs was also a common observation.
The emergence of Spice and other NPS was also highlighted by partners, as well concern at how "blatant, lacking in fear and impervious of consequences" dealers had generally become.
The links between the drugs market and the exploitation of children and vulnerable people was also identified in the study.
The most common form of exploitation was cuckooing, in which drugs dealers 'take over' a vulnerable person's home and use it as a base for their criminal enterprise. Across Bedfordshire last year, 13 per cent of the identified instances of cuckooing took place in rural areas.
Vulnerable drug users were often sexually and financially exploited, and also at risk of violence or being victims of violent crime.
A strong link between mental health issues and drugs misuse across users in Bedfordshire was found, with alcohol dependence and common adolescent use across the county also of concern.
The report suggests that the drugs supply networks in Bedfordshire were increasingly complex, ranging from organised crime groups and urban street gangs through to more localised dealers.
Bedfordshire is the only force in the Eastern region known to 'export' County Lines into other areas, while it is also targeted by County Lines gangs from areas such as London.
These drug supply lines were found to be serving a wide range of markets, from long-term addicts to infrequent middle-class drug users.
Other emerging trends included the purchase of drugs online on the so-called dark web, as well as the escalation of 'drill music' on social media platforms, which glorifies drug dealing to young people with aspirations of a profitable criminal lifestyle.
Det Chief Supt Lay is due to present the study's findings to the Serious and Organised Crime Exchange (SOCEX) conference in Kenilworth on Wednesday (May 22).
Bedfordshire Police is now using the conclusions of the study, alongside £75,000 of funding from the Home Office for 'Heroin and Crack Action Areas', to review how agencies across the county can best work together to address the issues around drugs.
"Bedfordshire is reflective of national and even international shifts in the drugs markets, where global production is high and reduced police resources have inevitably led to less capacity to tackle this threat," explained Det Chief Supt Lay.
"We believe this pioneering new approach, working across agencies, pooling our data and expertise, is the best way to reduce the harm caused by drugs, including the serious violence and exploitation that is inherently linked to this industry.
"As a police service we have traditionally targeted supply, yet this is driven by demand. Only by understanding the size and the nature of that demand can we appreciate the consequent threats: to our users, to victims of crime committed to fund dependence, and to those caught up in associated violence and exploitation.
"Only when we are so informed can we collectively work together with partners, informed by the profile, to actively focus on reducing the harms and the call upon our services."
If you or a loved one are affected by drug or alcohol addiction, learn more about drug and alcohol rehabs in Bedfordshire here.