Bedfordshire opens state-of-the-art custody building
Bedfordshire Police has cut the ribbon on its new, state-of-the-art custody building.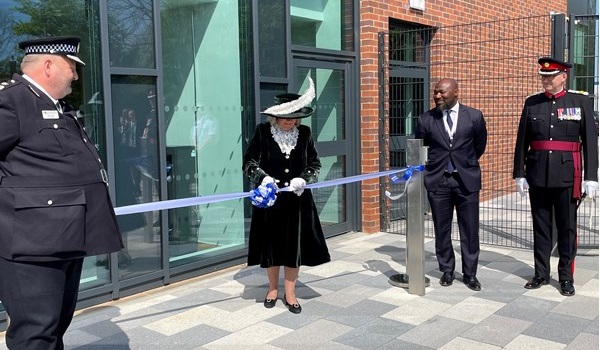 The 22-cell custody block and additional office space was officially opened last week by Chief Constable Garry Forsyth, Bedfordshire police and crime commissioner Festus Akinbusoye, High Sheriff of Bedfordshire Lady Jane Clifford and the Vice Lord-Lieutenant Chris Sharwood-Smith MBE.
Developers Wilmott Dixon have spent the past two years building the multi-million-pound custody block, after the facility was approved for planning permission in May 2020.
The building has been operating since the beginning of April, with new teams previously based across the county moving back to force headquarters and joining their fellow investigative teams.
Mr Forsyth said: "This is an amazing investment for the force and a positive change for Bedfordshire Police. New technology and innovative design will help us give the maximum care and support for those visiting custody, as we continue to improve the service we give.
"As well as the new custody suite, the new working space for officers and staff will create an innovative and cohesive way of working. The building will benefit the force for many years to come, and marks a key piece of history for the force."
Mr Akinbusoye added: "This is the first major construction project by Bedfordshire Police in decades. Our new custody building, not only delivers a modern facility for processing offenders, it also provides much needed space for our Public Protection Unit and the work they do investigating volume crimes like burglaries, as well as serious sexual violence.
"I want to thank all those involved in delivering this vital project on time and on budget."
Vice Lord-Lieutenant Chris Sharwood-Smith MBE said: "It was a pleasure to join the High Sheriff of Bedfordshire and distinguished guests at the official opening of the Bedfordshire Police custody suite. This amazing state of the art facility will benefit the people of Bedfordshire by improving relationships with offenders and support them to break the reoffending cycle."