'Authentic, brave, genuine and kind' PC Andrew Harper laid to rest
More than 800 people have attended the funeral of Police Constable Andrew Harper, the Thames Valley Police officer who was killed on August 15 while on duty.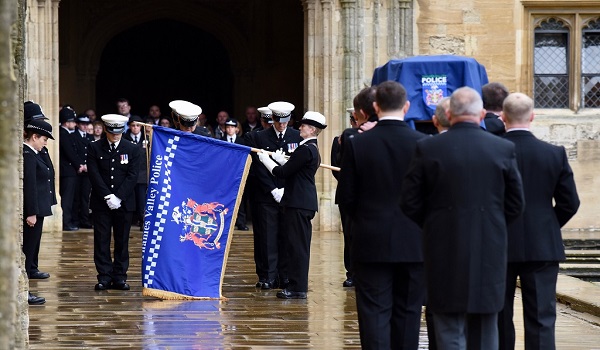 Uniformed colleagues of PC Harper lined the route as the cortege made its way to the private service at Christ Church Cathedral in Oxford. The newlywed 28-year-old died from multiple injuries when he was dragged under a vehicle on a road near Sulhamstead, Berkshire.
Members of the public also paid their respects as the cortege led by mounted officers travelled through Oxford before the service.
The coffin was draped in a navy flag with a force crest on the side and was carried into the cathedral by six officers in full uniform.
Leading the service, the Dean of Christ Church the Very Rev Dr Martyn Percy said: "The tributes that have poured in for Andrew exemplify a truly outstanding young man, but also the very best virtues in policing. He represented policing at its best. He was everything you wanted in a police officer. Authentic, brave, genuine, and kind."
Mrs Harper placed her husband's police hat on his coffin and paid an emotional tribute to him during the hour-long service, saying he was the "kindest, loveliest, most selfless person you will ever meet".
Thames Valley Police Federation chair Carig O'Leary said PC Harper, who was married just four weeks before his death, was "a hero" who loved being a police officer.
"It is our sad duty today to pay our last respects to him and support his wife Lissie, his family and his friends at his funeral," he added.
Thames Valley Police said its flags would be flying at half-mast as a mark of respect. It added on Twitter: "Today is going to be a tough day for all our officers, staff and volunteers as we pay tribute to our fallen colleague."
Three teenagers remain in custody charged with the murder of PC Harper.