Attacks on police officers 'shameful and will not be tolerated', says PSNI
The Police Service of Northern Ireland (PSNI) has condemned a series of assaults on officers as "shameful and unacceptable".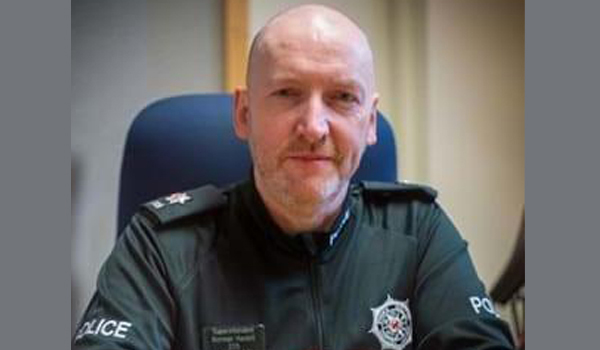 In the latest incident, three officers were attacked in Daisy Hill Hospital in Newry on Wednesday (January 4) at around 4.45am while accompanying a patient requiring medical attention.
"This was a particularly nasty assault. Two officers were bitten on the leg and one punched in the face, blood was also spat into the faces of two officers," said District Commander Superintendent Norman Haslett.
"Our officers were seen by medical staff and, thankfully, their injuries were not more serious and they feel well enough to remain on duty."
It was the latest in a series of attacks on officers in the district that Supt Haslett said were "shameful and unacceptable".
In Newry Mourne and Down, 17 PSNI officers were injured in attacks during the course of their duties in December.
Supt Haslett said: "In what other job would this happen? These are men and women who are working hard to keep their communities safe and this is how they are treated?
"While we come to work knowing we could be faced with difficult and dangerous situations, it is completely unacceptable that our officers should be assaulted and verbally berated in the most shocking ways for simply doing their jobs."
He said in one weekend alone in December, six constables were punched, kicked and headbutted. Some required hospital treatment and a small number had to take some time off work to heal from their injuries.
Supt Haslett said the most recent attack in Daisy Hill Hospital highlights its message that all assaults on emergency service workers – be that a nurse, doctor, paramedic or police officer – "are serious offences and there are serious consequences".
"Six people have been charged to court already and risk jail time for these assaults on our officers in December," he added.
"And a man has been reported to the Public Prosecution Service following this hospital attack on three counts of assault on police and criminal damage.
"Assaults on our officers are unacceptable, and will not be tolerated."
In the early hours of Thursday morning (January 5) three PSNI officers were injured when their vehicle was rammed during a police stop in Newry.
Two men were arrested at the scene following the incident and remain in custody, the PSNI said.
Supt Haslett said: "At approximately 1.40am, officers stopped a vehicle that was driving erratically in the Flagstaff Road area of Cloughoge.
"The vehicle stopped briefly however then proceeded to repeatedly ram two police patrol vehicles causing injuries to three police officers, one of whom required treatment in hospital."
A 32-year-old man was arrested on suspicion of a number of offences, including driving with excess alcohol and driving while disqualified.
A 30-year-old man was also arrested on a number of offences, including causing danger to road users and possession of Class B and Class C controlled substance.
"Our police officers work tirelessly at all hours of the day and night on behalf of the community to keep the community safe," said Supt Haslett.
"This type of behaviour is dangerous and reprehensible and it needs to stop. I wish the officers who have been injured as a result a speedy recovery."