Arrest leads to new learning on how officers deal with potential medical emergencies
The Independent Office for Police Conduct (IOPC) is developing new national recommendations on how officers deal with potential medical emergencies following an incident in London in which a man appeared to suffer a seizure while being restrained over a parking violation.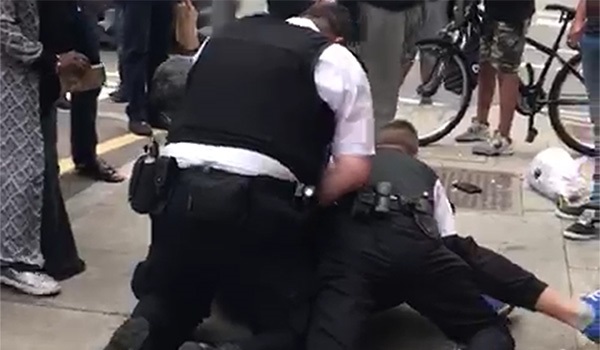 The new recommendations come amid intense scrutiny over the use of force by British police, triggered by the death of George Floyd in the US.
In July 2019, Youness Bentahar was approached by officers from the Metropolitan Police Service (MPS) after parking his car, which was displaying a blue disabled badge, on a single yellow line. The officers asked Mr Bentahar to move his vehicle, which contained his wife and young children, explaining it was causing an obstruction.
Mr Bentahar, 38, denied causing an obstruction and said he had parked legally using the badge, displayed because one of his children has a lung condition requiring oxygen. After repeatedly refusing to move the vehicle, the officers decided to arrest Mr Bentahar. When he resisted, they attempted to restrain him.
In widely circulated footage of the struggle that followed, Mr Bentahar can be seen shouting "my heart" while pinned to the ground. His wife appeals to the officers to let him go, expressing concern that they are "killing him". Several passers-by also attempt to intervene.
Mr Bentahar then appeared to become unwell and required first aid and an ambulance.
Mr Bentahar was arrested on suspicion of obstruction of the highway, assaulting police and resisting arrest but no charges were brought.
The IOPC said: "Our investigation highlighted the need for officers to fully understand the risks of not treating people according to how they present and assuming the medical conditions or illnesses are not genuine."
The investigation looked at the actions of the officers leading up to and including the arrest and restraint of Mr Bentahar against relevant training, legislation and local and national policy and guidance.
It examined the initial contact between the officers and Mr Bentahar, their decision that the car was parked unlawfully and had to be moved; their engagement with them and any consideration given to the children in the car; the decision to arrest Mr Bentahar; the force used on him; the medical care provided to Mr Bentahar; and whether there was any evidence of discrimination on the grounds of disability, race, gender and religion.
The investigation also included a review of body-worn video footage of the incident and a sampling of clips from the previous interactions between one of the officers and other members of the public.
"We also interviewed independent witnesses and the officer's colleagues," the IOPC said. "The officer himself was interviewed under criminal caution, although the Crown Prosecution Service subsequently decided no charges were to be brought against him.
"Though we agreed with the MPS that there was no case to answer for misconduct on use of force and discrimination, we did feel that, as the car was displaying a blue badge, more could have been done to identify whether any reasonable adjustments around disability needed to be made."
The MPS said the constable had "taken part in a reflective practice review to reflect on what happened and how he might have handled the incident better to prevent it escalating".
IOPC Regional Director for London, Sal Naseem, said: "This was a thorough and detailed investigation of an incident that attracted significant public interest at the time.
"We were concerned that Mr Bentahar's apparent seizure was not taken seriously by some officers and it should have been. That's why we are looking at how this can inform national training, as a key part of our role is to help prevent these issues from happening again. This can only be in the interests of both the police and the public."
Commander Paul Betts of the MPS Directorate of Professional Standards, said: "We welcome independent scrutiny and fully supported the IOPC investigation; the general public must have confidence in how we police. We acknowledge the IOPC found no case to answer for misconduct and have taken forward the reflective practice review for our officer. The officers in this matter were dealing with a difficult situation with a man who had resisted arrest, but as a force we want to learn and improve for the future.
"We are also aware of the IOPC's recommendation around additional training for officers when dealing with potential medical emergencies. All officers are trained in first aid and know they have a duty of care to assist anyone taken unwell; they do this day in and day out in London. We teach that all officers involved in an incident have a responsibility to continually assess a detainee's condition, particularly if they have been restrained.
"However, we are always keen to learn and develop and will implement any further training recommended by the National Police Chiefs' Council (NPCC) or the College of Policing."
The IOPC said it was working with the College of Policing and NPCC to see how the learning it identified from the incident can be incorporated into every officer's training. The relevant guidance will be updated and could form part of scenario-based training as early as April 2021.