Anti-oil protests escalate to criminal damage
Eight people have been arrested on suspicion of criminal damage and aggravated trespass after two groups of climate change protesters staged "a significant escalation" of their activities at two service stations on the M25 earlier today (April 28).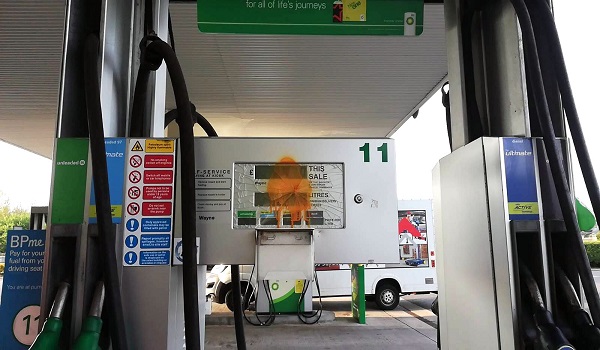 Officers from Surrey Police were called to Clacket Lane Services around 7.02am following reports that a group of protesters from Just Stop Oil had turned up. A further call was received around 7.06am that protesters were on site at Cobham Services petrol station.
In addition to blockading the entrances to the petrol stations, protestors also smashed the glass displays of several of the pumps and covered them in orange spray paint, rendering them unusable.
Other protestors glued themselves to the pumps and signs on the station forecourts while another glued himself to the top of a lorry.
The force said that specialist removal equipment are working to ensure that all protesters are removed safely and that further arrests are likely to be made throughout the day.
One protestor, Nathan McGovern, 22 a student from Coventry, said: "The world's most vulnerable are dying from a fossil-fuelled nightmare right now, whilst our government proposes to drill for more oil and gas. I refuse to stand by and watch as heatwaves and drought murder people across the global South and families in the UK are forced to choose between eating and heating. If politicians and bureaucrats refuse to act then it falls on ordinary people to do what they will not."
Just Stop Oil began its protests on April 1. It has carried out a series of blockades of fuel terminals in south-east England and the Midlands, and targeted several high-profile football matches.
More than 1,000 arrests have been made.
The group described its latest activities as "a significant escalation" and said it will "continue the disruption until the Government makes a statement that it will end new oil and gas projects in the UK".
Ten supporters arrested outside Kingsbury oil terminal on Wednesday are due to appear at Birmingham Magistrates' Court on Thursday. They are charged with contempt of court relating to an injunction granted to North Warwickshire Borough Council, which prohibited protests at the site.
The police and crime commissioner for Surrey, Lisa Townsend, condemned the actions of the protesters as "selfish and unacceptable".
She said: "Yet again this morning we have seen damage caused and disruption to ordinary people's lives in the name of protest. The selfish actions of these protesters are completely unacceptable and I am pleased to see the swift response by Surrey Police who are working hard to minimise the impact on those using these areas. Unfortunately some of these protesters have glued themselves to various objects and removing them safely is a complex process that will take some time.
"Motorway service stations provide an important facility for motorists, particularly lorries and other vehicles transporting vital goods across the country. The right to peaceful and lawful protest is important in a democratic society but the actions this morning step far beyond what is acceptable and serves only to cause disruption to those people going about their daily business.
"This has again resulted in valuable police resources being used to respond to the situation when their time could have been better spent policing in our communities."